South Sudan: Jonglei militia 'kills dozens'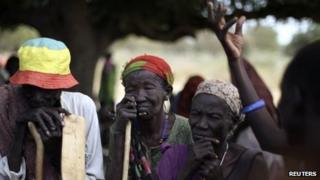 Some 78 people have been killed and scores wounded in an attack on villages in South Sudan's Jonglei state, the local MP has told the BBC.
The attackers were believed to be members of David Yau Yau's rebel group, said MP Deng Dau.
Jonglei is badly affected by ethnic rivalries and disputes over land and cattle ownership.
More than 1,500 people are estimated to have been killed in the area since South Sudan's independence in 2011.
Tens of thousands have also been left homeless by the fighting.
'Abductions'
South Sudan Information Minister Micheal Makuie told the BBC's Focus on Africa programme that security forces have been deployed to capture the rebels.
Air surveillance is also being carried out to "detect their line of movement", he added.
Army spokesman Col Philip Aguer told the BBC at least two villages had been burned during Sunday's attack in Jonglei's Twic East County.
Mr Dau, who has just visited the scene, said the attackers wore green uniforms and had used heavy weapons including mortars.
The attack left 78 people dead and 88 wounded, he said, adding that 24 people, many of them children, had been abducted.
The UN mission in South Sudan said more than 30 people had been flown to the nearest towns for medical treatment.
Thousands of cattle were stolen during the attack, the acting governor of Jonglei, Hussein Maar, said, in comments carried by the Associated Press news agency.
South Sudan is awash with small arms after decades of conflict against Khartoum's rule.
Khartoum gave it independence in 2011 following talks brokered by the US and regional countries.
Cattle lie at the heart of life for many communities in the country which has hardly any banks - they are used as a form of wealth, to pay dowries and as a source of food in the lean season.
A single cow can be worth hundreds of dollars depending on its colouring.
Both Sudan and the South are reliant on their oil revenues, which account for 98% of South Sudan's budget. But the two countries cannot agree how to divide the oil wealth of the former united state. Some 75% of the oil lies in the South but all the pipelines run north. It is feared that disputes over oil could lead the two neighbours to return to war.
Although they were united for many years, the two Sudans were always very different. The great divide is visible even from space, as this Nasa satellite image shows. The northern states are a blanket of desert, broken only by the fertile Nile corridor. South Sudan is covered by green swathes of grassland, swamps and tropical forest.
Sudan's arid north is mainly home to Arabic-speaking Muslims. But in South Sudan there is no dominant culture. The Dinkas and the Nuers are the largest of more than 200 ethnic groups, each with its own languages and traditional beliefs, alongside Christianity and Islam.
The health inequalities in Sudan are illustrated by infant mortality rates. In South Sudan, one in 10 children die before their first birthday. Whereas in the more developed northern states, such as Gezira and White Nile, half of those children would be expected to survive.
The gulf in water resources between north and south is stark. In Khartoum, River Nile, and Gezira states, two-thirds of people have access to piped drinking water and pit latrines. In the south, boreholes and unprotected wells are the main drinking sources. More than 80% of southerners have no toilet facilities whatsoever.
Throughout the two Sudans, access to primary school education is strongly linked to household earnings. In the poorest parts of the south, less than 1% of children finish primary school. Whereas in the wealthier north, up to 50% of children complete primary level education.
Conflict and poverty are the main causes of food insecurity in both countries. In Sudan, many of the residents of war-affected Darfur and the border states of Blue Nile and South Kordofan, depend on food aid. The UN said about 2.8m people in South Sudan would require food aid in 2013. The northern states tend to be wealthier, more urbanised and less reliant on agriculture.