Capsized Mali boat: Dozens more bodies are found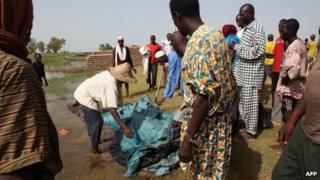 The Malian authorities say 72 people are now known to have died when a boat capsized a week ago on the River Niger.
Rescuers found the bodies of dozens more passengers after the boat was refloated, Mali's Security Minister Sada Samake said.
He said 210 people survived the accident, in which the vessel broke up near Konna whilst en route north from the town of Mopti to Timbuktu.
Eyewitnesses had said the boat was overloaded with cargo.
"The rescue teams have been able to bring it to the surface," General Samake announced in a press conference reported by the French news agency, AFP.
He said 72 had died, and there were 210 survivors, of whom 11 were lightly injured.
Officials had previously said 39 people died in the accident.
He thanked the French military for its help in providing a medical team after the accident.
New safety measures
The boat broke at the stern on a branch of the river near the village of Koubi.
Speaking at the same press conference, Mali's Planning Minister, Abdoulaye Koumare, said the government was introducing new safety measures to prevent a repeat of such a tragedy.
"In the future, these canoes will have to be equipped with life vests, fire extinguishers and lights for night-time navigation," he said.
An investigation into why the large dugout capsized is still under way.
Eyewitnesses had said the boat collapsed because it was overloaded with cargo.
Local residents said many of the passengers would have been schoolchildren returning to the north for the start of their new academic year.
Many Malians opt to travel by water, often in rudimentary canoes, due to poor road conditions in the north and the relatively high cost of overland travel.
Over 4,000km (2,500 miles) long, the River Niger connects landlocked Mali's arid north with the more fertile south.