Benghazi gunmen kill Libya commander Ahmed al-Barghathi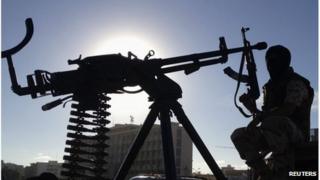 Masked gunmen have shot dead a Libyan military police commander in the city of Benghazi, officials have said.
Ahmed al-Barghathi, the head of the military police's investigative division, was shot several times as he left his house for Friday prayers.
No group has admitted carrying out the attack.
Many security officials have been targeted by gunmen since the end of the 2011 war that toppled Colonel Muammar Gaddafi's government.
Arrests rare
In the past year alone, more than 80 people, many of whom were high-profile military and police figures or retired army generals, have been assassinated in eastern Libya.
The BBC's Rana Jawad in the capital, Tripoli, says no-one ever admits carrying out the killings. and arrests are rarely made.
Earlier this week two members of an infantry brigade were killed following an attack on their base in Benghazi.
Local media reported that their throats were slit.
And in the eastern city of Derna on Thursday morning, a local army commander widely known for his role in leading an anti-Gaddafi brigade was shot dead.
Mr Barghathi was one of many officials who rose to prominence after fighting against Gaddafi's forces.
He was reportedly on holiday in Benghazi when he was shot.
"Several shots hit Ahmed al-Barghathi. He was brought to hospital but later died there," a security source said.
Libyan Prime Minister Ali Zeidan recently called on Western powers to help stop the spread of militancy in Libya.