Uganda alert after US warns of 'Westgate-style' attack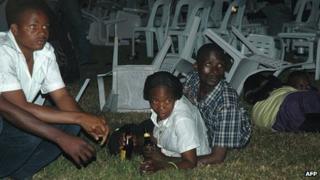 Uganda has issued a red alert after the US warned of a terror threat similar to last month's attack by militants in neighbouring Kenya.
The BBC's Patience Atuhaire in Kampala says security has been visibly stepped up, with cars and bags being searched at the Nakumatt Oasis shopping centre.
This is the first time Uganda has been on its highest alert since the 2010 twin suicide bombings in Kampala.
More than 70 people were killed in the attack by Somalia's al-Shabab group.
The bombers targeted two restaurants where patrons were watching the football World Cup on TV .
Al-Shabab also says it was behind the September attack on the Westgate shopping centre in Nairobi, in which at least 67 people were killed.
Both Uganda and Kenya have sent troops to Somalia to help the UN-backed government fight the militants.
All Ugandan police officers have been recalled from leave, officials say.
The US embassy in Kampala said it was assessing the reports of a possible attack but said it had no information about when or where it might happen.
Government spokesman Ofwono Opondo told the BBC he was glad that the US had passed on its intelligence.
Mr Opondo told the BBC's Focus on Africa programme that the security services had already thwarted several terror attacks in Uganda.
"The reason they have not been successful is that security has been able to get good information in good time and neutralise [the attacks] in good time," he said.