Tunisian rapper Klay BBJ is freed from jail on appeal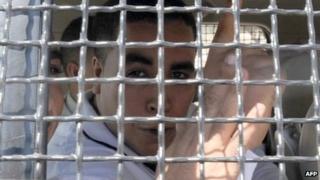 An appeal court in Tunisia has acquitted rapper Ahmed Ben Ahmed, known as Klay BBJ, on charges of insulting the authorities in his songs.
The rapper was jailed in September for six months for insulting the police at a concert in the resort of Hammamet.
"The court has decided to reject the accusations," the AFP news agency quotes the judge as saying.
During the performance in August, he sang alongside fellow rapper Weld El 15, who has been on the run since then.
They had both initially been sentenced in absentia in August to 21 months in prison.
Klay BBJ lost an appeal in September and was immediately jailed.
But on his second appeal hearing in Grombalia, south of the capital, Tunis, the judge said his sentenced had been annulled and he was released.
Weld El 15, whose real name is Ala Yaacoub, has been in trouble before for his song The Police Are Dogs.
He was given a two-year sentence in June, which was later suspended but he went into hiding following his latest conviction in August.
Since the 2011 revolution, which toppled long-time President Zine El Abidine Ben Ali, there have been tensions between secular Tunisians and Islamists.
"Our songs criticise the current situation in Tunisia and the government, no more and no less," AFP news agency quoted Klay BBJ as saying in September.
A coalition led by the moderate Islamist Ennahda party has been in government since elections in 2011.