UN peace force in Mali 'needs troops and equipment'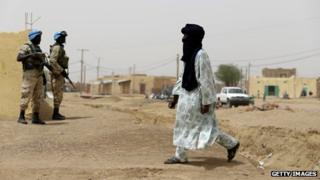 The United Nations has appealed for more troops and equipment for its peacekeeping force in Mali.
The UN force, which took over security duties in July, has less than half of its mandated strength of more than 12,000 military personnel.
Bert Koenders, the UN's special representative to Mali, said recent attacks had been a "wake-up call".
He said the force, known as Minusma, needed more resources in order to stabilise the north of the country.
French forces led an operation to oust Islamist militants from the region in January.
A presidential election was held in Mali in July but militant attacks have resumed in the north where separatist Tuareg rebels and Islamist fighters are based.
Protect civilians
A suicide bomb attack hit the northern city of Timbuktu on 28 September and an Islamist group fired shells into Gao on 7 October.
"We are faced with numerous challenges," Bert Koenders told the UN Security Council.
"The mission lacks critical enablers - such as helicopters - to facilitate rapid deployment and access to remote areas to ensure the protection of civilians. Troop generation will have to accelerate."
The UN peacekeeping force was dealt a further blow in August by the withdrawal of a large Nigerian contingent who returned home to tackle their own Islamist insurgency.
This left Minusma with less than 6,000 troops. It is due to reach full strength with 12,640 uniformed personnel by December.
The UN force is replacing French troops, which intervened in January when Islamist militants threatened to march on the capital Bamako.
An al-Qaeda group and its allies extended their control of the north of Mali following a coup in March 2012 but they have since been forces out of the region's major cities such as Gao, Kidal and Timbuktu.