Kenya to microchip every rhino in anti-poaching drive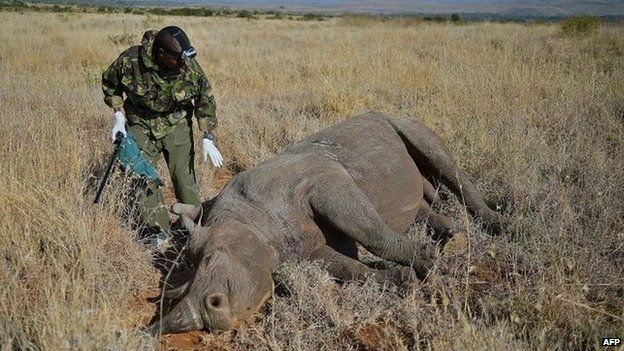 Kenya is embarking on an ambitious plan to microchip every rhino in the country in a drive to combat a surge of poaching, say wildlife officials.
The microchips will be implanted in the horns of more than 1,000 rhinos.
Officials hope the chips will enable live animals to be tracked and poached horns to be traced, improving the chances of poachers being prosecuted.
Soaring prices for ivory and horn have prompted a "gold rush" in poaching across much of Africa.
In August, a white rhino was shot dead in one of Kenya's most secure parks, Nairobi National Park. It was the first such killing in the park for six years.
Rhino horn is highly prized in Asia, where it is used in traditional medicine. It is made of keratin, the same substance as human finger nails.
The micro-chipping project is being supported by the World Wildlife Fund, which donated the chips and five scanners at a cost of $15,300 (£9,700).
However that sum is thought to be a fraction of the amount it will cost to track and dart each rhino in order to fit the devices.
The new initiative will "serve to strengthen rhino monitoring, protect the animals on site and also support anti-trafficking mechanisms nationally and regionally.
"Furthermore, investigators will be able to link any poached case to a recovered or confiscated horn and this forms crucial evidence in court contributing towards the prosecution's ability to push for sentencing of a suspected rhino criminal," said the KWS.
As well as preserving rhino populations, the drive could also help combat organised crime and protect Kenya's lucrative tourism industry, analysts say.
Related Internet Links
The BBC is not responsible for the content of external sites.