South Africa to pay Marikana survivors' legal fees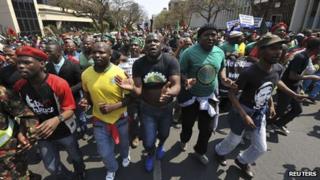 A South African court has ruled that the state should pay the legal fees for the survivors of the mass shooting at the Marikana mine.
Police killed 34 striking miners at the Lonmin-owned mine in August 2012, shocking South Africa and denting confidence in its mining sector.
It was the worst incident of police violence since the end of apartheid.
The issue of who should fund legal representation for 270 miners has delayed the inquiry into the shooting.
President Jacob Zuma set up a judicial commission to investigate the killings, which, while not yet concluded, has already found that police lied about the shootings.
The government's refusal to pay for lawyers for the surviving mineworkers led to demonstrations in Pretoria last month.