Kenya seizes ivory bound for Turkey in seed shipment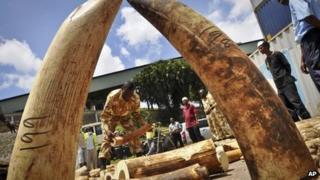 Kenyan customs officers have seized about four tonnes (8,600 llb) of ivory hidden inside sacks of sesame seeds.
The Kenya Wildlife Service (KWS) said more than 1,600 pieces of ivory, worth $1.4m (£870,000), were found in Mombasa in two consignments bound for Turkey.
There is a huge demand for African ivory in Asia for use in ornaments.
A customs official said smugglers were increasingly shipping tusks through countries not normally associated with demand for ivory, Reuters reports.
KWS's Arthur Tuda said the ivory was found during two separate searches on different days at Mombasa port.
"[The ivory] came through the Kenya-Uganda border stashed in sacks, and they were hidden... in two 4ft (12m) containers," Reuters news agency quotes him as saying.
"Export documents declared the containers as carrying sesame seeds."
Kenya Revenue Authority official Fatma Yusuf said both consignments were disguised in a similar manner, the AFP news agency reports.
Mr Tuda said the searches at Mombasa port were being increased in a bid to stop smugglers.
The Convention on International Trade in Endangered Species (Cites) banned the trade in ivory in 1989.
But in recent years poaching has increased across sub-Saharan Africa with criminal gangs slaughtering elephants for ivory markets in Asia.