Libyan PM Ali Zeidan calls for foreign help on militancy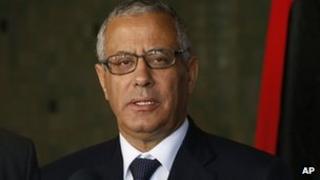 Libyan Prime Minister Ali Zeidan has called on Western powers to help stop the spread of militancy in his country.
In an interview with BBC Newsnight he said Libya was being used as a base to export weapons throughout the region.
"The movement of these weapons endangers neighbouring countries too, so there must be international co-operation to stop it," Mr Zeidan said.
On Monday Libya questioned the US ambassador over the capture of a suspected al-Qaeda leader in Tripoli.
Anas al-Liby, wanted over the 1998 bombings of US embassies in Kenya and Tanzania, was seized by US commandos in an early morning raid on Saturday.
The US has defended the capture saying that Mr Liby - whose real name is Nazih Abdul-Hamed al-Ruqai - was "a legal and an appropriate target".
But Libya's national congress on Tuesday demanded his return, calling his capture a kidnapping that amounted to a "flagrant violation of the country's national sovereignty".
President Barack Obama told reporters on Tuesday that the US had strong evidence that he had "planned and helped execute plots that killed hundreds of people - a whole lot of Americans".
"He will be brought to justice," he said.
Mr Liby is believed to have been one of the masterminds behind the 1998 US embassy attacks, which killed more than 220 people in Kenya and Tanzania.
The 49-year-old has been indicted in a New York court in connection with the attacks and has been on the FBI's most wanted list for more than a decade with a $5m (£3.1m) bounty on his head.
'State weakness'
He was living openly in the Libyan capital Tripoli before his capture. BBC Newsnight reporter Tim Whewell says that this and the brazenness of the US operation are further signs of the current weakness of the Libyan state.
Libyan Justice Minister Salah al-Marghani, who on Monday summoned US ambassador Deborah Jones over Mr Liby's capture, said the US-led operation had caught Libya's leaders off-guard.
"The news itself was definitely a surprise to me," he told reporters. "And having seen the prime minister on the same night, I haven't seen anyone more surprised than Ali Zeidan about what happened."
On Sunday, the prime minister's office said he had asked the US for clarification on the raid and stressed Libya was "keen on prosecuting any Libyan citizen inside Libya".
However, Mr Zeidan has said that ties between the Libya and the US will not be affected by the operation.
There has been little visible co-operation between the US and Libya since the terror attack on the US consulate in Benghazi last year, in which the ambassador Chris Stephens was killed, our reporter says.
Threat to neighbours
Speaking to BBC Newsnight before the capture of Mr Liby, Mr Zeidan said that the huge proliferation of weapons in Libya poses a serious security threat.
"Weapons are being smuggled out of and into Libya by groups which are trying to murder and assassinate people, and spread terror in the country," he said.
"You see every day the militants fight each other, the issue is that the arms are available for the Libyan citizens, they are available for the young people, it is available at homes and in stores everywhere."
Proliferation is not just a concern for Libya but for its neighbours too.
Western intelligence agencies believe Libya now has the largest unsecured stockpile of weapons in the world, with millions of tons of arms unaccounted for since the 2011 revolution that toppled Muammar Gaddafi.
They include 3,000-8,000 so-called Manpads - Man Portable Air Defence Systems - portable missile systems which are a threat to all types of aircraft, including civilian passenger planes.
These surface-to-air missiles, which are easy to use and easy to hide, are the weapon of choice for groups like al-Qaeda, say security experts.