Mali 'Islamists' blow up bridge near Gao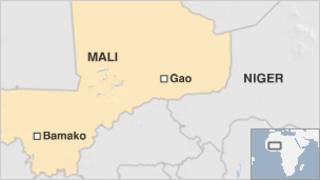 Suspected Islamist militants have blown up a bridge near Mali's northern town of Gao, the army says.
The bridge over a River Niger tributary near Bentia is on the only route between Gao and neighbouring Niger.
Monday's attack came shortly after shells were fired into Gao, also by suspected Islamists.
Islamist militants controlled the whole of northern Mali until France and several African countries ousted them earlier this year.
An election was held in July amid efforts to reunite the country and restore democracy.
Last week, the MNLA ethnic Tuareg separatist rebels attacked Kidal, the main town north of Gao, after saying they were pulling out of a peace deal.
The MNLA formed an alliance with several al-Qaeda-linked groups in 2012 but this soon broke down, with the Islamists seizing control of the major northern towns.
One of those groups - Mujao - said it had blown up the bridge, the AFP news agency reports.
Ibrahim Cisse, a local councillor for the Gao region, told AFP that assailants, "wearing turbans", arrived by motorbike at the bridge before blowing it up.
A police source told AFP that there are two bridges at this point and only the older one was destroyed, while the new one was only slightly damaged.
Residents and military sources have told the BBC that traffic is still able to pass.
Last month, there was also a suicide attack in Timbuktu, which al-Qaeda in the Islamic Maghreb said it had carried out.
BBC Mali analyst Mamadou Moussa Ba says that amid the recent upsurge in insecurity in northern Mali, France appears to have put on hold its plans to withdraw all but 1,000 troops from the country.
The United Nations also has some 6,000 peacekeepers in the country.