Substantial risks for African migrants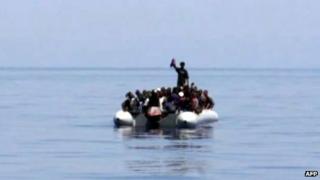 Eritrea is one of Africa's most repressive and isolated countries. Plenty of people want to leave it.
Nearby Somalia - still struggling to recover from 20 years of anarchy - has a similar problem.
But without the necessary paperwork, the only way for migrants to get to Europe is to put themselves in the hands of criminal gangs.
There are many different smuggling routes. Some go across the Red Sea to Yemen or up into Egypt. Wealthier migrants can try their luck by plane.
But another route leads through Sudan, across the Sahara by truck to Libya's long Mediterranean coast, and then a final boat trip to the nearest outpost of Europe - an island like Lampedusa.
For the migrants the process is expensive and fraught with danger at each stage.
But every year tens of thousands of people try to leave the Horn of Africa - looking for work, for medical treatment, to avoid national service, to join relatives, or simply for safety.
Across the continent, far more people are on the move.
Africa may be seeing sustained economic growth - at more impressive levels than much of Europe - but as a new report showed this week - few of the profits appear to be trickling down to the poorest.
Most migrants remain within Africa, travelling long distances from regions like the Sahel, for instance, in search of jobs. But the Canary Islands, Spain, Italy and Yemen are all popular destinations for those prepared to chance a sea crossing.
Bad weather, bad boats, Red Sea sharks and ruthless smugglers who've been paid in advance - all present substantial risks.