Torture 'widespread' in Libyan jails - UN report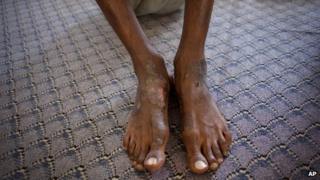 Torture and ill-treatment, sometimes resulting in death, is "widespread" in Libyan jails, a new UN report says.
The report says torture is most frequent used "immediately after arrest and during the first days of interrogation".
The UN estimates about 8,000 people are still being held in relation to the 2011 conflict which ended in the overthrow of Col Gaddafi.
The vast majority are being held without due process, the report says.
Torture is being used "as a means to extract confessions or other information", the UN says.
The United Nations Support Mission in Libya says it has recorded 27 deaths in custody since late 2011 "where there is significant information to suggest that torture was the cause", with 11 of the cases occurring in 2013.
The report does note however that the use of torture is happening "despite the efforts of the Libyan authorities which are committed at the highest level to ending torture and to ensuring the proper functioning of the criminal justice system".
It notes that a "major factor" in ill-treatment and torture of detainees is the "current situation of prolonged detention and interrogation at the hands of armed brigades".
It recommends that detainees held by the brigades be handed over to "effective state control".
Libya's central government has struggled to tackle the presence of armed militias since Col Gaddafi's death in 2011.
In June, Libyan army chief of staff Youssef al-Mangoush resigned after 30 people died in clashes between protesters and a militia in Benghazi.
Earlier in the year, militiamen surrounded several government ministries in the capital Tripoli.