#weareone - How Westgate united Kenyans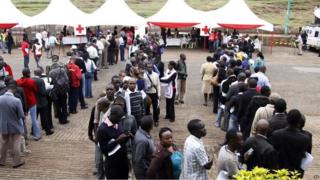 The Westgate shopping mall attack and four-day siege has seen Kenyans use social media extensively either to mobilise resources or to keep the world informed of activities around the prestigious shopping centre.
It was not just citizens who took to social media to pass information, even government officials joined in with the interior ministry and the country's police boss keeping members of the public informed and even responding to questions on Twitter.
Mobile phone operator Safaricom together with the Kenya Red Cross raised a staggering $1.2m (£740,000) in just one week. The mobile company's communications director, Nzioka Waita, said this was the fastest that the company had managed to mobilise money from Kenyans.
A group of young Kenyans aged between 22 and 25 using the Twitter hashtag #weareone were the most captivating, with their messages aimed at uniting the country through updates and insights on what was happening at the shopping mall.
Through the initiative, the country was mobilised to give money and donate blood, as well as keeping the peace.
One of the group's members, Nuru Jamal, said #weareone was started last year by a group of seven young people whose aim was to help the needy as well as encouraging members of the public to contribute to worthy causes.
Among the initiatives they have previously carried out include visiting children's orphanages as well as mobilising for sporting activities.
However, the Westgate attack seems to have made the seven members even more enthusiastic as they tweeted messages of peace to people on what was happening around the mall.
They even posted videos on YouTube and directed their followers there.
One tweet encouraged Kenyans to donate blood after an appeal from hospitals in Nairobi as the enormity of the Westgate attack unfolded.
In yet another message, the group informed its followers that Interpol was ready to provide Kenyan police with forensic officers to help investigate the attack. The group also has a presence on Facebook.
Ms Jamal said the group was inspired to come together after realising that the country was divided and that nobody was paying attention to the underprivileged in society.
"Some of us are still students while others have just graduated and some are working," she said.
Safaricom's Mr Waita said he had been inspired by the enthusiasm shown by Kenyans in making a contribution to the victims of the Westgate shopping Mall attack.
The money will be used to offset medical bills for the victims, as well as offering support.
It is not the first time the mobile phone company has mobilised resources in Kenya.
Previously the company ran a four-week fundraiser when the country was hit by drought in the northern part of the country.