Nelson Mandela 'responding to treatment' at Houghton home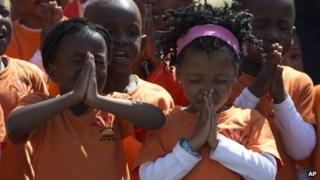 Nelson Mandela is continuing to respond to treatment at his home in Houghton, according to South African President Jacob Zuma.
The former South African president, 95, returned home at the start of September after almost three months in hospital.
In his statement, President Zuma thanked the global community for their support but did not go into detail about Mr Mandela's condition.
Previous statements have often said he is "critical but stable".
Mr Mandela was admitted to hospital in Pretoria in June with a recurring lung condition.
'Very grateful'
Family members have spoken of their happiness at having Mr Mandela home again.
"Our revered former president continues to respond to treatment at his home," said President Zuma on Wednesday.
"His family and our people have warmly welcomed the support he continues to receive from the global community.
"We are humbled and very grateful for this support."
Mr Mandela has been receiving intensive care at his home in a suburb of Johannesburg, which has been specially adapted for his care.
The Nobel Peace Prize laureate is revered around the world for leading the fight against white minority rule and preaching reconciliation with the white community despite being imprisoned for 27 years.
Correspondents say the presidency has been keen to reassure not just the Mandela family but the nation that he is no more vulnerable at home than in hospital.
It has called for Mr Mandela's privacy and dignity to be respected.