Westgate attack: Kenya's 'Little Mogadishu' fears backlash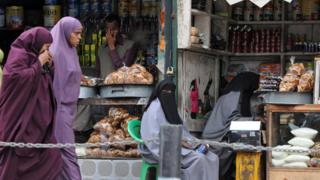 A cloud of anxiety has engulfed the Somali-dominated Eastleigh suburb of Nairobi as the residents await the outcome of the standoff at the Westgate shopping mall. But many are also angry at the attack and rallying round to help the victims, like other Kenyans.
Eastleigh is a suburb in the east of the Kenyan capital predominantly inhabited by Somalis, drawn from both Kenya and the Somalia, that is popularly referred to as "Little Mogadishu".
It is a big business hub where East African traders come for shopping and is considered to be one of the leading markets in the region.
It is normally a bustling place with everyone from hawkers, retailers and open market traders engaged in various activities to eke out a living.
Following the claim by Somali Islamist group al-Shabab that it was responsible for the shopping mall's attack, some Eastleigh residents are apprehensive that they may be targeted by other Kenyans.
A year ago, there were ethnic clashes between Somalis and other Kenyan communities after a minibus was blown up by militants in Eastleigh, killing at least seven people.
'Safe haven'
According to Abdirizak Nur Ibrahim, a young Somali who has lived in Nairobi for more than 15 years as a refugee, life has changed drastically for many Somali nationals.
Ibrahim says he fled Somalia to seek a safe haven in Kenya.
"I don't know what to say, why are they doing this to such innocent people, unarmed people - those attackers are not only enemies to non-Muslims but to humanity," he says.
"I condemn the attack and I wish that other communities will understand that we are against this ideology and share the pain with them."
Another Eastleigh resident, Mohamed Ali, said he was concerned that should any of the attackers turn out to be Somali nationals or having emanated from Somalia, the community could be targeted.
He thinks the harassment could come from either members of the public or Kenyan authorities, who have previously been accused of harassing ethnic Somalis as they search for Islamist militants.
The chairman of Eastleigh District Business Association, Hassan Guled, says that they are waiting for the siege at the shopping mall to come to an end to gauge the reaction of the rest of the Kenyan community.
Asked whether there is a possibility of retaliation against ethnic Somalis, Mr Guled said: "We don't expect that but we can't rule out criminal elements taking advantage of the situation to harass members of the Somali community".
The businessman said no community should be targeted for the attack on Westgate shopping mall because it was an act of terrorism and an international crime that is not confined to any community or nation.
The community has joined the rest of the nation to show their solidarity with the victims of the Westgate attack, and a centre has been established for blood donation and another for collecting money, food and other necessities to help those affected.
Kamukunji Member of Parliament Yusuf Hassan, a Kenyan Somali, was injured in an attack that killed two people in Eastleigh last December. The MP was holding a discussion with his constituents after evening prayers at Hidaya Mosque when a man hurled a grenade at them, injuring nine people.
Mr Hassan suffered a fractured leg and now uses a wheelchair.
The attack on the Eastleigh MP sparked violent protests, with youths barricading roads with burning tyres.
Kenya sent its troops to Somalia two years ago to fight al-Shabab after the group was involved in the abduction of tourists and aid workers from Kenya's coast and the Dadaab refugee camp, home to hundreds of thousands of Somali refugees in Kenya.
The soldiers have since been re-hatted and are part of the 18,000-strong African Union (AU) force supporting the UN-backed government trying to establish control of Somalia.