Kenya shopping mall attack: Eyewitness accounts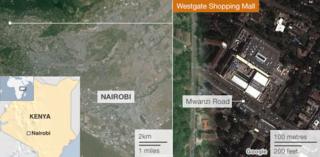 At least 11 people are feared dead and dozens more wounded after gunmen fired at shoppers in an upmarket mall in the Kenyan capital of Nairobi.
Eyewitnesses have been describing the chaos and devastation at the scene of the shootout in the Westgate centre.
Arjen Westra told the BBC he was sitting in a cafe drinking coffee when the gunfire erupted.
"The gunfire moved into the shopping mall and people started running. I could hear people screaming and people crying around me, everyone was lying flat on the ground."
Improvised barricades
Another survivor, Surajit Borkakyoty, told the BBC it was "total chaos" as gunfire came from a higher level floor. He said he and 20 others found themselves in the kitchen of a cafe, and moved fridges and freezers to block the passageways.
"It was a small space, people were panicking, children were crying. We were trying to calm people and tell them not to use their phones, or to keep them on silent. All the time we could hear gun fire. It was a war like situation."
Sudjar Singh, who works in the shopping mall and was there at the time of the attack, said he suffered a near miss when he was targeted by the attackers.
"The gunmen tried to fire at my head but missed. There are definitely many casualties."
Hannah Chisholm, a Brit visiting Nairobi, said she and 60 others barricaded themselves into a large storeroom.
"We kept running to different places but the shots were getting louder so we barricaded ourselves along with about 60 others into a large storeroom. There were children hiding with us as well as someone who had been shot."
"The gunfire was loud and we were scared but at that point we thought the gunmen were thieves so we assumed they wouldn't try to reach the storeroom," she adds.
Arabic or Somali?
One witness told AFP news agency the gunmen were speaking in a foreign language, possibly Arabic or Somali.
Another eyewitness told the Associated Press the gunmen ordered all Muslims to leave the mall.
"The gunmen told Muslims to stand up and leave. They were safe, and non-Muslims would be targeted,'' Elijah Kamau told AP.
Jay Patel, who hid on an upper floor in the mall during the attack, also told AP he saw the attackers with a group of people. He said ,as the gunmen were talking, some of the people left, while the others were shot.
Several survivors described the gunmen as dressed in black with masked faces and carrying heavy rifles, including AK-47s.
The BBC's Anne Soy said some of the attackers were dressed in hijabs although it is unclear if they were men or women.
Martin Cuddihy from the Australian Broadcasting Corporation told the BBC his friend, who escaped the centre, had seen "as many as 40 bodies", including many women and children.