Westgate shooting: Emails give timeline of fear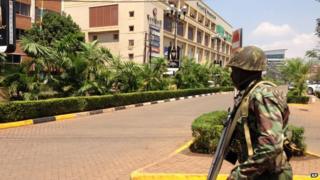 Gunmen and armed police have been exchanging fire at an exclusive shopping centre in Nairobi.
The events began around midday local time (09:00 GMT) and have left several people dead and injured.
Many shoppers fled the building, but a number of others remain trapped inside.
One person hiding inside the building has been in contact with a friend living in Ireland, sending emails describing the situation and their fears.
These are the emails, describing this shopper's experience as written, through the timeline of the email correspondence.
11.33
Am hiding in a store at (location withheld), my next person an Indian shot. Severe shooting going on within the premises. I left parcel in my car mid of the road, praying
12.28
Thugs inside, we don't know when the police will rescue us, all over tvs and radio, we are warned not to move, am in a dark store, more police coming
12.38
I don't even know if I stopped engine of car. Nobody is going out, only police. Praying they ditch thugs out. It is a big shopping mall, now knowing where thugs are is hard. Getting out of here is a mystery. My next person an Indian shot and bleeding
13.32
Waiting 4 police to declare building safe, hiding
14.58
Am rescued, my car near the building. So many people killed, it al shabab. My car not safe. Thanks. Rescued by international rescue