Ivory Coast dismisses ICC warrant for Simone Gbagbo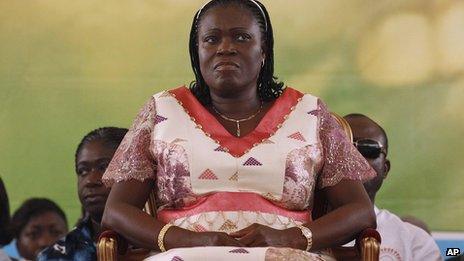 Ivory Coast has said it plans to try ex-first lady Simone Gbagbo in its own courts, instead of handing the case to the International Criminal Court (ICC).
The wife of former President Laurent Gbagbo is being prosecuted for alleged crimes against humanity following disputed presidential polls in 2010.
On Friday, Ivory Coast ministers voted to dismiss the ICC's arrest warrant.
Some 3,000 people died in violence after Mrs Gbagbo's husband refused to accept defeat in a run-off vote.
He is already awaiting trial at the ICC in The Hague on four charges of crimes against humanity. Mr Gbagbo, 67, who insists he is innocent, is the first former head of state to have appeared at the ICC.
The West African ex-leader was ousted in 2011 with the help of French and UN forces backing President Alassane Ouattara.
He and his wife were arrested in a bunker, five months after the elections, following a military assault on their residence in the main city, Abidjan.
Ivory Coast lawmakers confirmed on Friday they had decided to file a "motion to dismiss" the ICC's warrant issued in February 2012.
"The decision of the cabinet aims to have Mrs Gbagbo brought to trial by Ivorian courts, whose good reputation has been restored and which can hold a fair trial that will guarantee the rights of the defence," the government said in a statement.
Officials added they had informed the ICC of their decision.
Mrs Gbagbo has been charged with crimes against humanity in Ivory Coast.
Correspondents say the court in The Hague will respond to the request once it has investigated whether Mrs Gbagbo will receive a fair trial in Ivory Coast.
She faces four charges of crimes against humanity, including murder, rape and torture allegedly committed in Ivory Coast between 16 December 2010 and 12 April 2011.
Friday's announcement came shortly after the African Union announced it would hold a special summit next month to discuss a mass withdrawal from the ICC in protest at the trial of Kenya's Deputy President William Ruto.
Earlier this month, Kenya's parliament voted to leave the ICC just days before the start of Mr Ruto's trial.
However, the ICC said the decision would not affect the trial of Mr Ruto, or Kenya's President Uhuru Kenyatta, whose case is due to begin in November.
The AU has previously accused the ICC of "hunting" African leaders and ignoring atrocities elsewhere.
The ICC was set up in 2002 to prosecute crimes against humanity, war crimes and genocide.
All the eight cases it is currently investigating are in Africa.
Related Internet Links
The BBC is not responsible for the content of external sites.