BBC Africa Hangout: Is democracy delivering for Africa?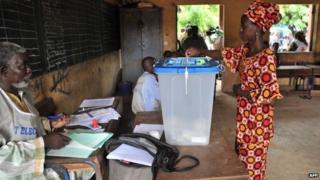 Multiparty democracy swept across Africa in the early 1990s, toppling a series of one-party and military regimes.
Activists hoped greater political freedoms and strong institutions would lead to more government accountability - and more effective development. But two decades later, is this the case?
In some countries, multiparty democracy is seen as a mirage. Leaders are accused of manipulating election results to legitimise dictatorial rule.
Presidents Paul Biya of Cameroon and Robert Mugabe of Zimbabwe have both been in power for more than 30 years, despite doubts raised over how elections have been conducted.
Even when elections are deemed to be free and fair - does the process equal democracy? What happens in the period between ballots?
Can Western-style multiparty democracy work alongside the difficult nuances of African politics - with ethnicity and religion often taking the place of political ideologies, as far as voters and parties are concerned?
Is democracy delivering for Africa? What are the alternatives? And what needs to be done to ensure a greater realisation of the democratic project in the future?
BBC Africa's Akwasi Sarpong on Wednesday hosted a Hangout, a discussion on Google+.
If you missed the broadcast, you can watch the Hangout again on the BBC Africa YouTube channel.
On Twitter, tweet a comment with the hashtag #BBCAfricadebate
You can also comment via our BBC Africa Google+ page or on our BBC Africa Facebook page