Ugandan reporter Kaitana bailed over DR Congo M23 charges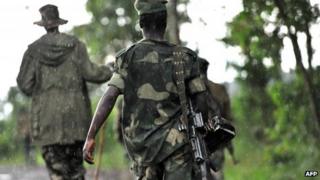 A Ugandan journalist charged with recruiting men for the M23 rebel group in neighbouring Democratic Republic of Congo has been freed on bail.
A court in the capital Kampala set bail of $1,500 (£940) for Simon Kaitana, the ex-bureau chief of the Rwandan government-owned New Times newspaper.
He denies 12 counts of trafficking people to DR Congo to join the M23.
Last year, a UN report accused the Rwandan and Ugandan governments of backing the M23, which they denied.
Some 800,000 people have been displaced in resource-rich eastern DR Congo since the M23 launched its rebellion in April 2012.
The M23 is made up mostly of Tutsis, the same ethnic group which dominates the Rwandan government.
Mr Kaitana, a Ugandan of Rwandan origin, is accused of recruiting people for the M23 under false pretences around May and June this year, reports the BBC's Ignatius Bahizi from Kampala.
The prosecution alleges that he offered young people jobs abroad when he was, in fact, recruiting for the M23.
Mr Kaitana's lawyer Byamugisha Deus Barusya told our reporter that his client was innocent and that the prosecution did not have enough evidence against him.
In June, four Rwandans sought asylum in Uganda after claiming the Rwandan army had forcibly recruited them to fight for the M23.
Rwanda denied the allegation.