Zanzibar arrests 15 acid attack suspects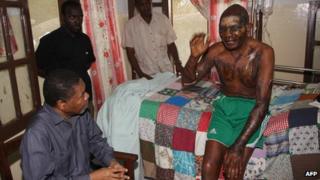 Police in Zanzibar say they have arrested 15 people in connection with a series of acid attacks on the island.
Police commissioner Mussa Ali Mussa claimed some of the suspects were connected with the Islamist extremist group al-Shabab.
Last week an elderly Catholic priest was attacked in the capital Stone Town.
It follows the assault on two young British women last month. Kirstie Trup and Katie Gee, both 18, had acid thrown on them from a motorbike.
Zanzibari officials have offered a reward in connection with that attack.
In Friday's incident, acid was thrown at Father Joseph Anselmo Mwangamba as he was leaving an internet cafe in the island's historic old town.
That attack is the fifth involving acid on the island since November last year.
Containers seized
Mr Mussa said police had seized 29 litres of acid as part of their operation.
The police chief told the Tanzanian newspaper the Citizen that the suspected al-Shabab members were caught "while preparing to take part in wars outside Tanzania".
Police were "finalising compiling evidence" before charging three people for the attack on the two British women, he told Agence France-Presse.
He refused to give further details of that investigation, the agency said.
It is unclear whether the 15 recent arrests relate to the attack on the British teenagers, or are connected solely with that on Father Mwangamba.
Zanzibar is a popular tourist destination, and locals say attacks on foreigners are rare.
Tensions between the majority Muslim population and Christians have been on the increase in recent years.