Algerian gas plant siege: Military's role questioned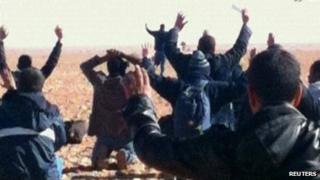 The oil firms running the Algerian gas plant attacked by Islamist militants in January relied too heavily on the army for protection, an inquiry by one of the companies, Norway's Statoil, says.
Almost 800 people were at the In Amenas facility when heavily armed militants entered at dawn on 16 January 2013.
"The Algerian military were not able to detect or prevent the attackers from reaching the site," Statoil said.
In total 40 workers and 39 militants died during the three-day siege.
BBC World Affairs correspondent Richard Galpin says the attack was one of the worst in the history of the oil and gas industry.
Guards not armed
The gas facility, in the Sahara desert near the town of In Amenas in eastern Algeria, is a joint venture run by Statoil, the British company BP and the Algerian state energy firm Sonatrach.
"The terror attack against In Amenas was an unprecedented attack. It clearly demonstrates that also companies like Statoil today face serious security threats," said Statoil investigation leader Torgeir Hagen in a statement.
The militants from the Signed in Blood Battalion were able to cross the border from Libya into Algeria and then continue through the desert to the gas plant without detection.
Within 15 minutes the militants had taken control, taking many of the foreign workers hostage.
The private security guards at the plant were not armed, our correspondent says.
"Security measures at the site were not constructed to withstand or delay an attack of this scale, and relied on military protection working effectively," Statoil said its 78-page report concludes.
"Neither Statoil nor the joint venture could have prevented the attack, but there is reason to question the extent of their reliance on Algerian military protection," it said.
"Neither of them conceived of a scenario where a large force of armed attackers reached the facility."
The siege ended when Algerian forces launched a raid to retake the facility.
Statoil says it has not had its own employees stationed at In Amenas since the attack.