Nigeria's Goodluck Jonathan sacks ministers amid PDP splits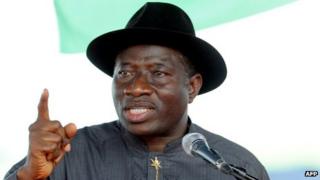 Nigeria's President Goodluck Jonathan has sacked nine cabinet ministers amid serious divisions in the governing party.
Two weeks ago, seven of the country's powerful state governors and former Vice-President Atiku Abubakar formed a splinter-group in the PDP.
They were angry after their allies were disqualified from party elections.
BBC Nigeria analyst Naziru Mikailu says the factions are jockeying for power ahead of 2015 polls.
The People's Democratic Party (PDP) has won every national election since the end of military rule in 1999, so the party's presidential candidate would be in a strong position to become Nigeria's next leader.
Allies of Mr Jonathan have already started campaigning for him to seek re-election - he has not revealed whether he intends to stand.
Among those dismissed are the ministers of foreign affairs, education and national planning, reports the Reuters news agency.
Sacked Education Minister Ruqayyah Ahmed Rufai was nominated for her position by one of the rebel governors.
No official reason has been given for the reshuffle, while a presidential spokesman said there would be no rush to replace the sacked officials.
Mr Jonathan has been president since 2010, when his predecessor died in office and he was promoted from vice-president.
He beat off a challenge from Mr Abubakar to be the PDP candidate in the 2011 elections, which he won despite opposition claims of rigging.
He is from the mainly Christian south, while some northern politicians say it is the "turn" of someone from Nigeria's mostly Muslim north to be national president.