Letter from Africa: Flying high?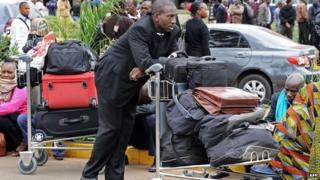 In our series of letter from African journalists, London-based Ugandan writer Joel Kibazo considers the travails of travelling by air in Africa.
I had barely woken up when the phone started ringing.
Friends called to ask if I was in Nairobi and if I was OK, knowing that I am frequent traveller and often fly into Jomo Kenyatta International Airport either going to and from Kenya itself, or on the way to Addis Ababa, Kampala, or Lusaka.
The airport is now a regional hub, and last month's fire, which destroyed the arrivals hall, highlighted the fact that more than 16,000 passengers go through it every single day.
That figure may be puny when you compare passenger numbers at other international airports.
Last year, Hartsfield-Jackson Atlanta International Airport in the US had a total of 95 million passengers - making it the world's busiest airport - while Heathrow in the UK saw 70 million people go through its terminals.
Yet the figures from Kenya clearly indicate that Africans have at long last been bitten by the travel bug.
Where once almost all the flights to and from the continent were linked to Europe or the United States, almost every time I stand before the flight boards I now see new routes within Africa.
And where most of the travellers were once clearly from outside the continent, today it is Africans getting on flights to do business or seek new opportunities such as travel for education and increasingly for sports fixtures between national teams and those of clubs and associations too.
'Not all doom and gloom'
But make no mistake - travelling in Africa by air is still one of the hardest and most frustrating things to do.
Yes there are new routes but not many that directly connect many of our cities.
It is still much easier and sometimes quicker for me to fly from one part of the continent via Europe than to fly direct.
The facilities at many of our airports make the hours of waiting between flights seem even longer.
Finding a seat to have a rest, let alone decent toilet facilities, is often a struggle - never mind braving the frequently rude, though to be fair usually underpaid, immigration and customs officials.
Believe me, it is enough to wipe away any notions of the glamour of air travel on the continent.
All of that before you even get to the issue of safety.
The International Air Transport Association (Iata) admits the Africa region has the world's worst safety record and data from the body revealed safety performance in 2012 had declined in comparison to the previous year.
Apart from the need to improve safety, specialists also say the sector has to reduce its high taxes, liberalise regulations and in fact bring into reality the Yamoussoukro Declaration' which was adopted in 1988.
It committed African governments to an open skies policy but has not been implemented as planned.
Yet it is not all doom and gloom and Africa has decided to take action on safety.
Last year countries adopted an African Strategic Safety Improvement Action Plan for the three-year period to 2015 and the plan was endorsed by the African Union in January.
The aviation industry supports some seven million people on the continent and, according to Iata, last year demand for international flights grew by more than 7% in Africa compared with 6% globally.
With African economies continuing to grow, this is an area that is set to boom... if only we can deal with the safety issues.
And needs must, I shall no doubt be back in the air soon.
If you would like to comment on Joel Kibazo's latest column, please use the form below.