Archbishop Ignatius Kattey: Nigeria police seek kidnappers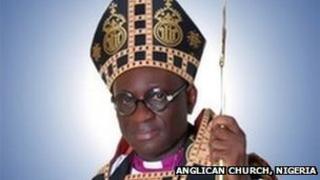 Police in Nigeria are looking for the armed men who kidnapped the country's second most senior Anglican archbishop, Ignatius Kattey.
He was seized late on Friday, along with his wife Beatrice, near their residence in the southern city of Port Harcourt.
Mrs Kattey was released unharmed a few hours later, the church says.
Kidnapping for ransom has become common in the oil-rich Niger Delta region around Port Harcourt in recent years.
Last year the mother of Finance Minister Ngozi Okonjo-Iweala was abducted and held for five days.
No group has said it was behind the kidnapping of Archbishop Kattey, the head of the Anglican Church in the predominantly Christian Niger Delta.
Numerous armed gangs operate in the area following years of violent protests against the oil industry.