Nigerian Boko Haram and vigilantes 'in deadly clashes'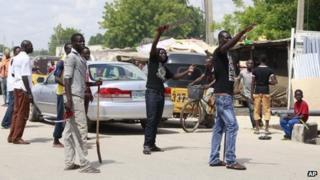 At least 18 people have died in clashes between suspected Boko Haram fighters and a vigilante group in Borno state in north-eastern Nigeria, reports say.
A majority of those killed were thought to have been vigilante members who had tried to defend the town of Benisheik against the Islamist militants.
The attack comes just days after the army launched huge raids on Boko Haram camps, killing about 50 militants.
Boko Haram wants to create an Islamic state across Nigeria.
The movement has been waging a deadly insurgency since 2009, which has left several thousand dead.
But attacks have increased recently despite a massive military deployment to worst-affected areas.
In response to the surge in violence, President Goodluck Jonathan declared an emergency in May in three north-eastern states, including Borno.
In addition, the military has encouraged the formation of vigilante groups in those states to help tackle Boko Haram.
'Sophisticated arms'
A state official said five militants and 13 vigilante members were killed in Benisheik, which lies 70km (43 miles) west of the state capital Maiduguri, where Boko Haram was formed in 2009.
The insurgents reportedly ambushed the civilian militia in the early hours of Sunday, shooting at them from trees.
A vigilante member told the Associated Press he and others were attacked while awaiting Boko Haram's approach on the town.
"We heard that they would be coming since Friday and had been keeping vigil every night," Zannah Fanami said.
"When we least expected it, Boko Haram gunmen, carrying sophisticated arms, opened fire on us."
Another vigilante claimed Nigerian troops had agreed to join the watch but "none of them came over to assist us" during the clashes.
But a military spokesman said soldiers had been sent to the area and the "attack was repelled".
A week ago, Boko Haram wearing army uniforms killed at least 24 vigilantes near the town of Monguno in Borno state.
Last month, the army said it had killed Boko Haram's leader Abubakar Shekau but this has not been confirmed and the militants' attacks have continued.
Observers says it appears Boko Haram is taking revenge against vigilante groups, adding weight to fears that the strategy may trigger an escalation of the violence.