Sudan's Bashir tells Salva Kiir oil flows will continue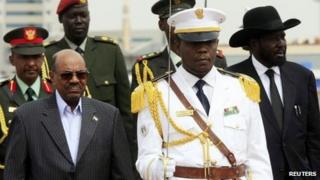 Sudan's President Omar al-Bashir has ended his threat to block South Sudan's oil exports after talks with its leader, Salva Kiir.
Sudan will abide by all agreements reached with the South after its independence in 2011, Mr Bashir said.
Mr Bashir had said Sudan would close its pipelines to oil from the South this Friday, accusing its neighbour of backing rebels.
South Sudan denied the charge and in turn accused Sudan of destabilising it.
South Sudan took with it nearly three-quarters of Sudan's oil production when it declared independence following decades of conflict.
'Border shut'
"The agreements we signed call for the transport of South Sudan's oil through Sudan's facilities and ports," Mr Bashir said after the summit in Khartoum.
Mr Kiir said Sudan and South Sudan had to "close the old chapters and open a new page", AFP news agency reports.
"These two countries cannot always remain on a war footing. If they do that, they cannot offer services to their citizens," he is quoted as saying.
Mr Kiir also called for the reopening of their border for trade, a move agreed in September but not yet implemented by Sudan because of South Sudan's alleged support for rebels, Reuters news agency reports.
"You closed the border. We didn't do that but we're ready to reopen it within 24 hours," Mr Kiir is quoted as telling Mr Bashir.
He said South Sudan was not supporting the rebels fighting Mr Bashir's government and "this can be seen in reality", AFP reports.
The Sudanese army is fighting a rebel insurgency in at least three regions.
An umbrella rebel group called the Sudan Revolutionary Front (SRF) has launched attacks on several towns, briefly occupying the major city of Um Rawaba in central Sudan in April.
The two sides fell out over how much the South should pay to export its oil through Sudanese pipelines.
South Sudan, which gets 98% of its revenues from oil, has huge reserves but is landlocked and reliant on Sudan's ports for export.
At the height of the dispute last year, the South shut down its entire oil output, badly hitting the economies of both countries.
Production resumed in April this year but the following month, Mr Bashir threatened to turn off the taps once more.
Both Sudan and the South are reliant on their oil revenues, which account for 98% of South Sudan's budget. But the two countries cannot agree how to divide the oil wealth of the former united state. Some 75% of the oil lies in the South but all the pipelines run north. It is feared that disputes over oil could lead the two neighbours to return to war.
Although they were united for many years, the two Sudans were always very different. The great divide is visible even from space, as this Nasa satellite image shows. The northern states are a blanket of desert, broken only by the fertile Nile corridor. South Sudan is covered by green swathes of grassland, swamps and tropical forest.
Sudan's arid north is mainly home to Arabic-speaking Muslims. But in South Sudan there is no dominant culture. The Dinkas and the Nuers are the largest of more than 200 ethnic groups, each with its own languages and traditional beliefs, alongside Christianity and Islam.
The health inequalities in Sudan are illustrated by infant mortality rates. In South Sudan, one in 10 children die before their first birthday. Whereas in the more developed northern states, such as Gezira and White Nile, half of those children would be expected to survive.
The gulf in water resources between north and south is stark. In Khartoum, River Nile, and Gezira states, two-thirds of people have access to piped drinking water and pit latrines. In the south, boreholes and unprotected wells are the main drinking sources. More than 80% of southerners have no toilet facilities whatsoever.
Throughout the two Sudans, access to primary school education is strongly linked to household earnings. In the poorest parts of the south, less than 1% of children finish primary school. Whereas in the wealthier north, up to 50% of children complete primary level education.
Conflict and poverty are the main causes of food insecurity in both countries. In Sudan, many of the residents of war-affected Darfur and the border states of Blue Nile and South Kordofan, depend on food aid. The UN said about 2.8m people in South Sudan would require food aid in 2013. The northern states tend to be wealthier, more urbanised and less reliant on agriculture.