Nelson Mandela discharge shows progress - Jacob Zuma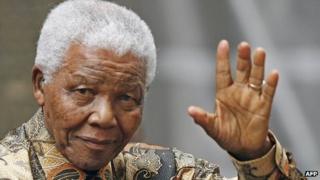 Nelson Mandela's discharge from hospital after nearly three months of treatment shows he has made "progress", South Africa's president has said.
Jacob Zuma said South Africans were "very happy" that the anti-apartheid hero, 95, had returned home on Sunday.
Mr Mandela was admitted to a private hospital in the capital, Pretoria, in June for a recurring lung infection.
He is revered around the world for leading the fight against white minority rule in South Africa.
He became South Africa's first black president in 1994.
Mr Mandela spent 27 years in prison and preached reconciliation with South Africa's white community after his release in 1990.
His home in Johannesburg's Houghton suburb has been "reconfigured" so that he continues to receives intensive care, the presidency has said.
Mr Mandela's lung condition is said to result from the tuberculosis he contracted during the 27 years he spent in prison for taking up arms against white minority rule.
He has been admitted to hospital four times in the past year and his latest stay lasted 84 days.
Mr Zuma said Mr Mandela was old now and his condition remained critical but stable.