'Mugabe toilet paper': Zimbabwean acquitted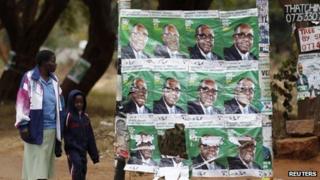 A Zimbabwean court has acquitted a man charged with intending to use a poster of President Robert Mugabe as toilet paper in a bar, his lawyer says.
Prosecutors had accused Takura Mufumisi, 26, of violating election laws by destroying a campaign poster.
However, the court ruled that it had failed to prove its case, Mr Mufumisi's lawyer said.
Mr Mugabe, 89, won a seven term in office after beating his rival, Morgan Tsvangirai, in elections on 31 July.
Mr Tsvangirai denounced the election as a sham, claiming he had been cheated of victory.
Mr Mufumisi was arrested at a bar in the southern city of Masvingo less than a week before the election.
He was acquitted by a magistrate's court because of a lack of evidence, his lawyer, Shumba Phillip, told the BBC.
"The state had one witness only, whose testimony was to the effect that he only saw the accused person in the toilet," he added.
Mr Mufumisi was acquitted on 5 August, but his case has come to light only now and has become a talking point among many people in Zimbabwe, reports the BBC's Brian Hungwe from the capital, Harare.
Kumbirai Mafunda, from the Zimbabwe Lawyers for Human Rights lobby group, said there were a growing number of cases of people accused of insulting Mr Mugabe.
"We believe this is an infringement of their freedom of expression," he said.
In March, a senior member of Mr Tsvangirai's Movement for Democratic Change (MDC) party, Solomon Madzore, was arrested after being accused of calling Mr Mugabe a "limping donkey" at an election rally.
He denied a charge of insulting the president.
Mr Mugabe has ruled Zimbabwe since independence in 1980.
He won with 61% of the presidential vote against 34% for Mr Tsvangirai in the 31 July election.
The poll ended the power-sharing government the two leaders formed in 2009 to end conflict in Zimbabwe.