Your questions to Peter Horrocks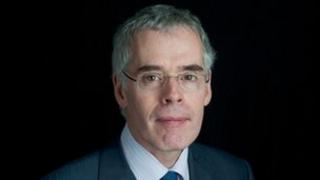 "Are the international media getting Africa right?" This is the question being asked by this month's BBC Africa Debate programme, to be broadcast from Nairobi, Kenya at 1900 GMT on Friday 30 August and 1200 GMT on Sunday 1 September. Ahead of the programme, BBC Global News director Peter Horrocks has answered your questions in a live Twitter Q&A on Wednesday 28 August.
This is an edited version of the session.
Question from @tayo_taiwo: What is BBC Africa's role in the emerging economy of Africa?
Peter answers: Africa's economic developments are a key story. The BBC is investing heavily in African business journalism.
Question from @olaadaraMD: Are international media not over-exposing African youth to Western cultures thereby eroding African values?
Peter answers: It is not our intention to erode anyone's values. But isn't it a good thing for all cultures to exchange ideas?
Question from @anastrace: Why has there not been more coverage of the proxy shadow wars funded by the West and fought locally in Africa?
Peter answers: Interesting point. Which "proxy wars" are in your mind?
Question from @ChaingaZulu: International media would rather send a reporter from South Africa to be based in Zambia. Why not get a Zambian?
Peter answers: We are using more and more local journalists to tell the story of Africa to the world accurately.
Question from @Finnfield: What role can you recommend higher education plays to improve international media coverage on Africa?
Peter answers: Careful academic analysis to show the achievements and gaps in our coverage is always welcomed.
Question from @LCHartmann: What is your position on lifting sanctions on Zimbabwe?
Peter answers: Lutz, it is not the BBC's job to have a position on sanctions. We report the facts and the issues.
Question from @jessiedendere: International media have been accused of not accurately telling Zimbabwe's story. What are you doing to ensure accuracy?
Peter answers: Jessie, we use reporters who come from Zimbabwe and we send well-informed reporters there, whenever we are allowed in.
Question from @ateist64: How do they deal with #overpopulation in media & politic?
Peter answers: I agree it is crucial to tackle solutions as well as problems. For the BBC, Africa is not a "they". Africa is our largest audience.
Question from @ndokwa10east: Why is the BBC world service not on FM in Nigeria?
Peter answers: We want to be on FM in Nigeria. Unfortunately, government regulation does not allow international news on FM.
Question from Alexander Ze Habesha: The BBC gives more coverage to Kenya and other East African countries than Ethiopia. Why is that?
Peter answers: BBC has a new reporter in Ethiopia, Emanuel Igunza. We will be doing more on that country, especially the economy.
Question from, @tayo_taiwo: Please highlight the challenges BBC Africa faces. As a media house, what are your challenges?
Peter answers: Key challenges: scale and variety of Africa; logistics; access to countries and leaders; distribution.
Question from @knyaga: How is it that BBC Africa broadcasts from London? What were the challenges faced setting up the studio in Kenya?
Peter answers: In the past, journalists needed to be in UK to avoid local pressures. Now they are all across Africa, and in London.
Question from @IsaacMensah2: Is there the opportunity to report for the service or you have media houses you deal with in Africa for reporters?
Peter answers: Yes, we work with other media houses, training journalists and encouraging them on to BBC airwaves.
Question from @EricBright: Why do the international media think that Western analysts and organizations are infallible in everything?
Peter answers: Eric, we aim to use as wide a range of experts as possible. Let us know when experts we use disappoint.
Question from @LoveAfrica1: How much access does BBC have to report in difficult areas like Somalia, DRC or Nigeria?
Peter answers: There are no-go areas in Somalia, DRC and Nigeria. But we have reporters in all three countries.
Question from @yokogracy: On what are the criteria used by the BBC as an international media to put their interests in some countries in Africa and not in others?
Peter answers: Grace, it depends on many things: size of the country, economy, level of insecurity, cultural impact, etc.
Question from @soni_tweets: How does the BBC cover the Great Lakes region? What do you say about it being biased?
Peter answers: We have reporters across the Great Lakes area, dedicated to accurate reporting. Please let me know when we fall short.
For more tweets from Peter Horrocks you can follow his Twitter account: @PeterHorrocks1
You can also follow BBC Africa on Facebook, Twitter and Google+