DR Congo: UN peacekeeper killed in M23 battle near Goma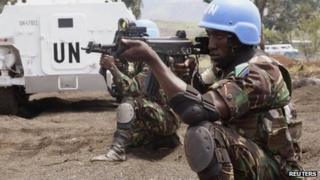 The United Nations says one of its peacekeepers has been killed and three others wounded in fighting with rebels in the eastern Democratic Republic of Congo.
A UN spokesman in New York, Farhan Haq, would not give the nationalities of the casualties or supply further details.
UN forces used attack helicopters to push back M23 rebels from positions near Goma, the main city in the region.
Fighting last week left more than 80 people dead.
Rebels seized Goma in 2012 but withdrew under diplomatic pressure.
The UN has deployed a new intervention brigade to mineral-rich DR Congo to tackle the rebels.
'Heavy weapons'
The UN peacekeeping mission in DR Congo - known by its French initials, Monusco - is fighting alongside government forces.
"Monusco has enlisted all of its attack helicopters and its artillery... to push back the M23 offensive that is under way right now on the hills of Kibati," Monusco spokesman Felix Basse told the Associated Press news agency.
Kibati is about 15km (nine miles) north of Goma, a city of about 200,000 people.
The M23 said the Congolese army and UN intervention brigade had attacked its forces in areas north of Goma with infantry, air strikes and heavy weapons, Reuters news agency reports.
Government and UN forces have been battling the rebels since last week.
A doctor in Goma, Isaac Warwanamiza, told AP he had seen 82 bodies, including those of 23 government soldiers, on Sunday.
The UN has an 18,000-strong force in DR Congo.
Its intervention brigade, made up of some 3,000 troops, has a mandate to disarm and neutralise rebel groups in the region.
It is the strongest mandate ever given to such a force by the UN Security Council, UN officials say.
The M23 is made up of deserters from the Congolese army.
About 800,000 people have fled their homes since it launched its rebellion in 2012.