Marikana: Row over South African miners' legal fees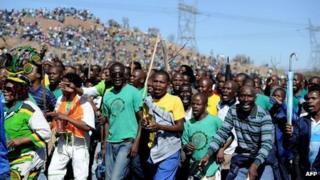 South Africa's main opposition party has criticised the government's refusal to pay legal fees for miners at an official inquiry into killings at Marikana mine in August 2012.
The Democratic Alliance said the decision was "a slap in the face".
Forty four people died during wage protests, including 34 striking miners shot by police.
The inquiry has been delayed several times over legal funding for hundreds of injured and arrested miners.
President Jacob Zuma set up the Marikana commission of inquiry to investigate the events leading to the killings.
The killings at the Lonmin-owned platinum mine near the town of Marikana, 120 km (70 miles) north-west of Johannesburg, shocked South Africa and hit confidence in its mining sector.
In the immediate aftermath of the police killings, the authorities sought to portray the miners, who were striking illegally, as responsible for the violence and bloodshed.
Some 270 of the striking miners were arrested and charged with murder, though the charges were later provisionally dropped.
'Credibility threatened'
On Thursday, Justice Minister Jeff Radebe said funding the legal team for the mine workers was outside of the legal framework for the use of state funds.
Lawyers representing about 270 miners say they had approached the government to foot the bill as it was paying for the lawyers representing the police.
But Mr Radebe said that state funds could only be used for people employed by the state.
The DA's parliamentary leader Lindiwe Mazibuko said the decision was "unacceptable".
"The fact that the government claims that it cannot find funds to assist the Marikana mine workers in getting proper legal representation is reason enough for both the minister and President Zuma to hang their heads in shame," said Ms Mazibuko in a statement.
Mr Radebe said the miners could be represented at the commission by the state's evidence leaders, who are tasked with collecting evidence from all parties and presenting it before the hearing.
"Evidence leaders serve only the purpose of extracting evidence, in the interest of the commission, they cannot be used to replace legal representation," Ms Mazibuko said.
"Denying the mine workers' right to legal representation is not only unfair, but could threaten the credibility of the findings of a commission that is bound to have both criminal and civil claim implications."
Both the police and mine-owners Lonmin have enlisted the services of private law firms.
The BBC's Pumza Fihlani in Johannesburg says the Marikana miners are poor, low-income earners, some struggling with debts from the strike.
The government is continuing to the pay the lawyers' fees for families of the dead mineworkers, through its Legal Aid unit.
"This decision was motivated by the fact that these were families had lost breadwinners and were without support to access the commission," Mr Radebe said.