Harare diary: Worries for the future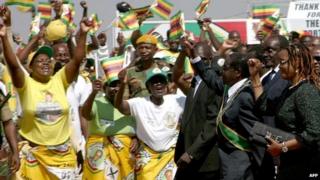 A 33-year-old professional living and working in Zimbabwe's capital, Harare, has been writing an occasional diary for the BBC about life in the city over the election period - and how it has changed over the past four years since the period of record hyperinflation.
In her last entry, Esther (not her real name) spoke of the shock many Harare residents felt about the election results, which saw the re-election of Robert Mugabe as president and gave his Zanu-PF party a majority in parliament. The poll also ended the power-sharing government between Zanu-PF and the Movement for Democratic Change, whose candidate Morgan Tsvangirai took 34% of the presidential vote.
Here she gives her reaction to the forthcoming inauguration of President Mugabe.
Diary entry:
It's been three weeks since elections which were won by a margin that was precisely predicted by The Herald in an edition just before the elections - 61%.
I'm hard-pressed to find three in five people around me who say they voted Zanu-PF, but there we are.
The president will be sworn in for a new five-year term.
The Southern African Development Community (Sadc) has given its seal of approval and made Zimbabwe vice-chair of the regional body.
I hear that means we are on our way to becoming the next chairman.
We've slowly recovered from our "results-induced illness" - a term coined by a colleague of mine.
We don't have a choice, really.
The regional, accredited observers are happy.
The 37% of rural voters who were assisted to vote are insignificant.
Morgan Tsvangirai's Movement for Democratic Change (MDC) has withdrawn its poll-fraud petition before the Constitutional Court because the party does not have an electronic voters' roll with which to prove its case, three weeks after the polls.
I believe they were meant to have it days before the elections.
So the mind of the ordinary Zimbabwean like me boggles.
It seems so obvious that our election process was flawed and needed to be investigated.
We had put all our hopes in Sadc, especially after Botswana publicly stated its reservations.
But now that door is closed - no, sealed - to opposition parties in Zimbabwe.
There is absolutely no mediation available on the regional front, absolutely none.
We were debating what opposition parties should have done - either refused to participate in the elections, or rallied behind Mr Tsvangirai's party and fielded one set of candidates.
A boycott would have crushed the people; voter turnout was higher than it's been in the recent past.
A concerted, combined effort may have worked better. Who knows?
But then again when people ask who won a certain seat it is followed up by, "Did they really win or was it a Zanu win?" - meaning, did the people vote for him or was he set up to win.
So you see this idea that this is a stolen victory persists.
No-one can prove it, but people are convinced something happened.
Why be worried that Zanu-PF is in power with a two-thirds majority in parliament?
Well, they can rewrite the constitution any way they want.
Any concessions made during the era of government of national unity can be thrown out the window.
It will have to go to referendum but I think we all know how that will turn out.
Economy concern
I'm worried about my country's future.
Our government wants to take over 51% of all "foreign-owned" firms - that includes companies run by non-ethnic people even if their families have been here for the last five or six generations.
What does this teach our children?
Does it not give them a false sense of entitlement? That if someone looks different from you, they don't belong and they can't own anything - take it from them.
Will we continue to see investment into our economy?
Things had been slowly picking up over the last five years, but will they continue to do so now?
Who knows? Maybe the next five years will prove me wrong.