Oscar Pistorius court hearing brief but emotional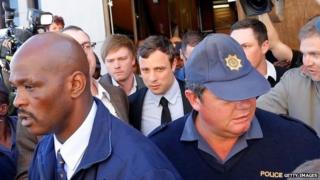 South African athlete Oscar Pistorius looked much more composed in court than previous occasions.
He mouthed the words "not well" when I asked him how he was feeling at the end of the brief hearing, but there were no surprises for him or his defence team today.
As expected, the prosecution revealed a list of witnesses, including "some" who "heard a woman scream, followed by moments of silence, then heard gunshots and then more screaming".
A date for the trial - 3 March 2014 - was also confirmed. Bail conditions remain unchanged.
Although the trial is still a long way off, I got the impression today that the prosecution's case may focus more on witnesses, than on forensic evidence from the murder scene itself.
The state has produced a long list of 107 potential witnesses.
Presumably some of those will portray the athlete as an angry man with an explosive temper and a tempestuous relationship with the model, Reeva Steenkamp.
Significantly, the indictment contains a fall back option.
Although Count 1, on page 1, accuses Mr Pistorius of "intentionally" killing Ms Steenkamp, there is a "summary of substantial facts" later in the document which states that even if Mr Pistorius thought his girlfriend was an intruder, "the accused shot with the direct intention to kill a person. An error in persona, will not affect, the intention to kill a human being".
The presence today in Courtroom C of some of Ms Steenkamp's closest friends, including Gina Myers, added an extra emotional dimension to the morning. In the months before Ms Steenkamp was killed, she lived with the Myers family in Johannesburg.
Ms Myers and others seemed keen not to make eye contact with the Pistorius family, who were sitting just a few feet to their right.
I also got the sense that Mr Pistorius's own relatives were shielding him from his girlfriend's supporters when he walked into the dock.