Libya interior minister Mohammed al-Sheikh resigns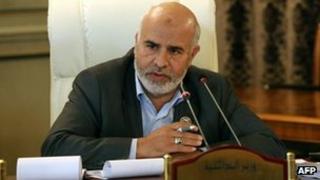 Libya's Interior Minister, Mohammed Khalifa al-Sheikh, has resigned only three months after taking up the post.
Mr Sheikh said he lacked support of Prime Minister Ali Zeidan and complained of interference by members of the General National Congress (GNC).
The interior ministry has come under pressure to deal with violence that has plagued Libya since the 2011 uprising that toppled Muammar Gaddafi.
Mr Sheikh is the second cabinet minister to quit in the past two weeks.
Awadh al-Barassi resigned as deputy prime minister on 4 August.
He said the government had failed to deal with the unrest, win the people's trust, and provide state agencies with adequate resources.
In a letter read out to the GNC on Sunday, Mr Sheikh said he was resigning "namely because of a lack of support from the prime minister", MP Abdullah al-Gmati told the AFP news agency.
He also complained that he was "not getting the financial and moral support to implement his reform programme and said he did not have sufficient prerogatives to carry out his policies", Mr Gmati added.
The former colonel in Tripoli's police force also spoke of being put under "pressure" from GNC members after trying to sack officials.