Nigerian troops 'kill Boko Haram commander Momodu Bama'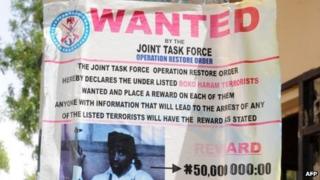 Nigeria's military has said it has killed the second-in-command of the Islamist militant group Boko Haram.
His death earlier in the month had been "confirmed by other arrested terrorists", a military spokesman, Brig Gen Chris Olukolade said.
Momodu Bama, also known by his alias "Abu Saad", was a specialist in manning anti-aircraft guns, he said.
In May, Nigeria declared an emergency in three north-eastern states in order to battle the militants.
There has been no independent confirmation of Momodu Bama's death and Boko Haram has not commented on the statement.
On Tuesday, Nigeria's Interior Minister Abba Moro told the BBC that the army was making progress in its war against Boko Haram, despite the killing of 44 people in a mosque in the region on Sunday.
The attack by suspected militants took place in the town of Konduga, 35km (22 miles) from the Borno state capital, Maiduguri, where Boko Haram was first established.
Gen Olukolade, a spokesman for Nigeria's Defence Headquarters, said Momodu Bama was one of the "most-wanted" militant commanders and had a 25m naira ($155,000, £100,000) bounty on his head.
He was killed during fighting in Borno state around "the Bama corridor", he said.
Seventeen other militants, including Momodu Bama's father Abatcha Flatari - "one of the spiritual guiding lights of the outlawed terrorist group", were also killed, he said.
Another 24 fighters were arrested, his statement added.
Boko Haram is fighting to establish an Islamic state in Nigeria's mainly Muslim north.
Thousands of people have died since it began its insurgency in 2009.
Boko Haram leader, Abubakar Shekau, said in a recent video that his fighters' continuing attacks showed that the army's claims to have inflicted heavy losses on the group were "lies".