Kenya rhino killed in Nairobi National Park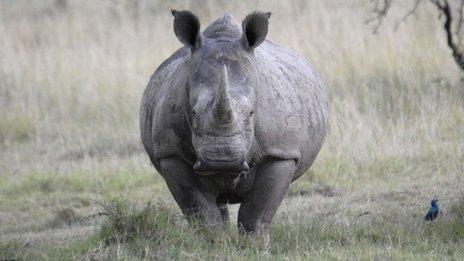 A white rhino has been shot dead by poachers in one of Kenya's most secure parks, near the capital Nairobi.
It was the first such killing in Nairobi's National Park in six years, Kenyan Wildlife Service (KWS) spokesperson Paul Udoto said.
Poachers killed the rhino on Friday, and took its horn, he was quoted by the AFP news agency as saying.
He said 35 rhinos had been killed in Kenya so far this year - compared with a total of 29 in 2012.
Nairobi National Park is located only 7km (4 miles) from the centre of the Kenyan capital, and is described by KWS as "the only protected area in the world close to a capital city".
Africa has seen a rise in poaching of both rhino and elephants in recent years.
Conservationists suspect that most of the poached rhino horn is destined for the traditional medicine markets of South East Asia, where it is believed to contain powerful healing properties, despite there being no scientific proof of this.
Rhino horn is made of the same substance as human finger nails.