Zanzibar Q&A: Behind the acid attacks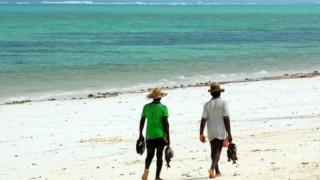 The acid attack on two British women in Zanzibar this week has shocked many on the Tanzanian island who believe it is an isolated incident.
What is Zanzibar like?
For tourists it is an incredibly welcoming place, known for its beautiful beaches, spices and its rich history.
Islanders on the mainly Muslim archipelago are known to go out of their way to be helpful.
There are two islands - Zanzibar, which is where most tourists visit, and Pemba, known for its fishing and clove trees.
Stone Town in Zanzibar City, with its narrow alleys, distinctive architecture - with Arabic, Indian, Persian, European and African influences - bazaars, mosques and historic buildings, is the main centre of Zanzibar island, and tourists from all over the world can be seen taking in the sites.
How dangerous is it?
Some burglaries have been reported in the last year, but the BBC's Tulanana Bohela in Tanzania says it is one of those places where you don't feel you have to keep looking out for your handbag.
In more remote conservative areas, there are public signs asking foreigners to respect local culture by covering up - but there is no antagonism between villagers and tourists.
South African Maggie Louw, who lives in Zanzibar, told the BBC: "Not once in my nine months here have I come across a violent individual or felt threatened in any way. If you respect their culture, they respect you either as an expat or tourist here. And this is coming from a South African that knows a lot about crime and violent crimes."
That is why the acid attacks have been so shocking to many residents.
Who is thought to be behind the attack?
A number of people are being held for questioning. But no-one has been arrested or charged.
A reward of 10m Tanzanian shillings (£3,970, $6,170) has been offered by Zanzibar's government for any information leading to the arrest of the acid throwers.
The teenagers were attacked on Wednesday evening as they were walking through Stone Town - and afterwards two men were spotted speeding off on a moped.
But the motive for the attack is a mystery. Our correspondent says residents seem genuinely confused and can't understand why it happened or who could be behind it.
Any attack on tourists in Stone Town would be rare, and an acid attack is seen as something personal, as if victims were being deliberately targeted, she says.
Late last year a Muslim cleric was also the victim of an acid attack in Zanzibar - but this was thought to be personal matter not linked to any religious or political motives.
Are there religious tensions?
Some, but these tend to come down to politics - and people on the islands say it is not linked to radical Islam.
Political groups tend to be split between those which want Zanzibar to remain in its union with mainland Tanzania and those that want more autonomy or secession.
Zanzibar joined Tanganyika in 1964 to form the United Republic of Tanzania a few months after the minority Arab ruling elite were ousted in a bloody revolution.
Today there are passionate arguments on both sides of the secessionist debate - but tensions have eased in the last few years with a unity government for the archipelago, which has its own parliament and president.
The issue has come to the fore again recently with the emergence of a new group, called Uamsho, meaning "the awakening" in KiSwahili, which has been calling for Zanzibar's complete independence.
Aboubakar Famau, from the BBC's Swahili Service, says secessionists want to ensure Zanzibar benefits from its own resources, instead of sharing them with the mainland.
Some also want to protect their culture from what they see as the Christian influences of the mainland - though there are no official records of religious affiliation in mainland Tanzania so it is not clear whether Muslims or Christians form the majority, he says.
Uamsho, which is particularly popular with disillusioned and jobless young people, says it does not support violence. However some of its leaders are in prison in connection with attacks on two churches and clashes with police in May 2012.
In a sign of further tension, a Catholic priest was shot dead in February.
Is it likely to damage the tourism industry?
The people of Zanzibar will certainly hope it doesn't and are worried. It is the height of the tourist season at the moment - and the authorities are going out of their way to find the culprits
Last year, according to the Zanzibar government, some 200,000 tourists visited and tourism is one the archipelago's main foreign currency earners after the production of cloves.
Nearly 12,000 Zanzibaris are employed directly in tourism - the island has more than 260 hotels - with an additional 45,000 engaged in tourist activities.
Part of the island's allure is its history - not only was it the birthplace of the late rock legend Freddie Mercury, it used to be a centre of the trade in spices and slaves, making it a melting pot of African, Arab, European and Indian influences.
It now also hosts one of East Africa's most popular music festivals - Sauti za Busara, "sounds of wisdom" - each February.