Zanzibar acid attack on Trup and Gee: Reward offered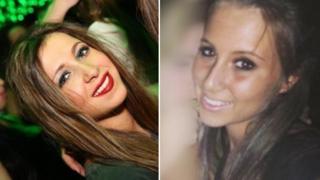 The Zanzibar government has offered a reward of 10m Tanzanian shillings (£3,970; $6,170) for information leading to the capture of attackers who threw acid at two UK women, police say.
Kirstie Trup and Katie Gee, both 18 and from London, had acid thrown on their faces, chests and hands.
The island's Police Commissioner Musa Ali Musa told the BBC that there was "no prime suspect" for the attack.
He said that a lot of people had been questioned and information gathered.
However no-one has been arrested or charged and investigations are continuing, Mr Musa said.
Volunteers
The police chief said it was the first time visitors to the island had been attacked in this way.
Officers had no idea as to the motive, he said.
The two young Britons, who were volunteering for the charity Art in Tanzania, have been flown back to the UK.
Their plane was met by ambulances when it arrived at RAF Northolt in west London at lunchtime on Friday.
The two are being treated at London's Chelsea and Westminster hospital.
"We are still assessing their injuries. Both girls are well and their families are with them," Andy Williams, a consultant surgeon at the hospital, said in a statement.
"Both families would like to thank everyone that's helped to bring the girls back," he added.
The firm which organised their trip, i-to-i Travel, said it wished the girls "a fast and full recovery".
The organisation said its customers due to arrive in Zanzibar had been given the option of an alternative placement but all had chosen to continue to Tanzania.
'Chaos and confusion'
The attack took place in Stone Town, the old part of Zanzibar's capital, on Wednesday.
Zanzibar's President Ali Mohammed Shein said the assault had "brought chaos and confusion to our country and outside".
Speaking to Muslims celebrating the Eid al-Fitr festival, he said:
"It was not a civilised act, it is not Islam.
"It was very cruel to throw acid on these innocent young girls."
A moderate Muslim cleric who was himself the victim of an acid attack on Zanzibar last year says he believes that hardline secessionist group Uamsho were behind the attack.
"Of course this attack on the tourists was Uamsho," Sheikh Fadhil Soraga told the Daily Telegraph.
However local police said there was no evidence that the group was involved, Reuters reported. The group has said it does not condone violence.
The BBC's Tulanana Bohela, in Tanzania's biggest city Dar es Salaam, said Islam is the main religion on Zanzibar, and in more remote parts of the island, away from tourist beaches, there are signs asking foreigners to respect the local culture and cover up.
But most islanders depend on tourism for their livelihoods and are happy to see tourists, so there is little antagonism towards them, she said.