Agathon Rwasa: Burundi ex-rebel leaves hiding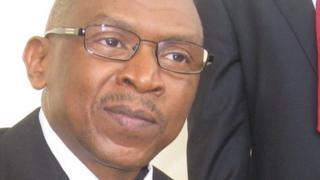 Burundi's main opposition leader and ex-rebel Agathon Rwasa has come out of hiding after three years.
He denied that he had been abroad and said he would stand in 2015 presidential elections.
The authorities prevented him from holding a public rally, saying he did not have permission, so he spoke to the press at his private residence.
Mr Rwasa ended his rebellion in 2009 but disappeared before 2010 elections, saying he feared for his life.
The election was the second major vote since the end of the country's brutal 12-year ethnic-based civil war.
He told the BBC's Focus on Africa programme that he remained committed to democracy. Elections are due in 2015.
"The time for weapons is over," he said.
He denied reports that he had fled to neighbouring Democratic Republic of Congo, saying he had been in "internal exile".
He also said he was still worried about his safety.
Both President Pierre Nkurunziza and Mr Rwasa led mainly Hutu rebel groups fighting against the army which was dominated by the Tutsi minority during the civil war, in which an estimated 300,000 people died.
Mr Rwasa's FNL refused to end the fighting when other warring factions set up a power-sharing government followed by elections in 2005.