Zimbabwe vote: Tsvangirai claims MDC victory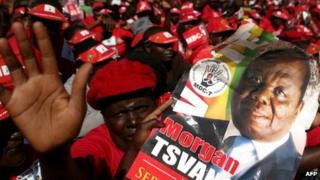 Zimbabwean opposition leader Morgan Tsvangirai has claimed victory for his MDC party in a parliamentary election, despite results showing a huge defeat.
Mr Tsvangirai said the election had been stolen by President Robert Mugabe's Zanu-PF party.
Electoral officials confirmed that Zanu-PF had won 158 seats in the 210-member chamber. Mr Mugabe is expected to win his seventh term as president.
The MDC has urged Zimbabweans to refuse to co-operate with the government.
Mr Tsvangirai, who is current prime minister but is also running for president against Mr Mugabe, said Zimbabwe was "in mourning" and had been plunged into a constitutional crisis.
He said his MDC would no longer deal with Zanu-PF and promised to challenge the "fraudulent" election results in court.
He said he would produce a dossier of the alleged electoral fraud and he called on the southern African regional bloc, Sadc, to investigate.
Commissioner quits
The two parties agreed work together in a coalition after an election in 2008 sparked violence across the country.
Zimbabwe's economy collapsed and international donors refused to deal with Mr Mugabe or Zanu-PF because of allegations they were siphoning off aid money.
Mr Mugabe has been subject to international sanctions, including travel bans, for more than a decade.
MDC government members have handled much of the reconstruction of the economy.
Earlier on Saturday, one of the nine members of the election commission resigned over the way the election was conducted.
Commissioner Mkhululi Nyathi said in his resignation letter: "While throughout the whole process I retained some measure of hope that the integrity of the whole process could be salvaged along the way, this was not to be."
Monitoring bodies were divided over the conduct of the election.
The largest group of domestic monitors, the Zimbabwe Election Support Network (ZESN), said problems with voter registration had left up to one million people unable to cast their ballots, most of them in MDC strongholds.
However, the African Union and Sadc broadly endorsed the election, saying it was free and peaceful.
Mr Mugabe, 89, is running for his seventh term in office. Results from the presidential election are expected to be announced shortly.