Mali election: IBK and Soumaila Cisse in run-off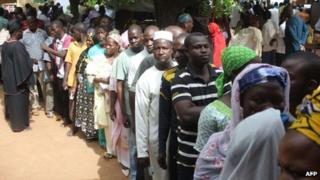 Mali's election, which follows a military coup, an Islamist seizure of half the country and French military intervention, will go to a run-off, the government has announced.
No candidate gained the 50% needed for victory.
Former Prime Minister Ibrahim Boubacar Keita and ex-Finance Minister Soumaila Cisse will contest a second round on 11 August.
The election is intended to restore democracy after 22 months of unrest.
On Monday, France hailed the election a success and the European Union said it had gone well and was marked by enthusiasm among voters.
France sent more than 4,000 troops in January to regain control of northern towns and cities from al-Qaeda-linked militants.
According to official figures, Mr Keita secured 39.2% of the vote cast on Sunday ahead of main rival Mr Cisse who took 19.4%.
Twenty-five other presidential candidates also took part in the polls.
Correspondents say the announcement of a run-off should ease tensions that have risen since partial results earlier in the week gave Mr Keita a large lead indicating he might win outright.
The results, announced on television by Territorial Administration Minister Moussa Sinko Coulibaly, are provisional and need to be confirmed by the West African nation's constitutional court.
The BBC's Alex Duval Smith in the capital, Bamako, says Mr Keita, known popularly as "IBK", has a reputation of being a strongman.
Aged 68, he ran his campaign under the banner of ''For Mali's honour'', playing on the fact that Malians felt humiliated by having to call for France's help to prevent their country from breaking up.
Prominent religious leaders in the mostly Muslim nation called on people to vote for him; he is also considered the favourite of the military, including last year's coup leaders, our reporter says.
Mr Cisse, who founded the Union for the Republic and Democracy (URD) party in 2003, called for the junta that seized power in 2012 to be cleared from the political scene.
The 63-year-old is originally a software engineer by training and in 2012 he fled Bamako after being attacked by soldiers loyal to the coup leader.
The chaos following the March 2012 coup allowed the Islamists and their one-time allies the Tuareg separatists to capture more territory in the north.
A UN peacekeeping force was deployed to Mali in July ahead of the elections, as France began to withdraw its troops from its former colony and the army pledged support for the restoration of democratic rule.