Zimbabwe: Voters' views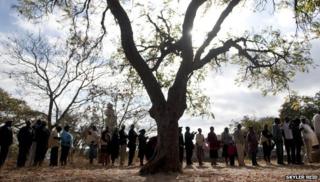 Voters in Zimbabwe have cast their votes for a new president and parliament, some queuing for hours to do so.
The country's Prime Minister, Morgan Tsvangirai, has made allegations of vote-rigging by rival President Robert Mugabe's party.
The largest observer group, meanwhile, has described the vote as "seriously compromised", saying up to a million Zimbabweans were prevented from voting.
The African Union and other regional observers, however, have praised the peaceful nature of the election.
BBC News website readers in Zimbabwe have sent in their experiences of the voting process. Here is a selection of what they have to say. BBC News has not been able to independently verify their comments.
"This election was held under very peaceful conditions. The people voted freely and as such the election was very free and fair. No harassment of people was witnessed and any claims of the election being unfair because there are dead people on the voters' roll should be dismissed with the contempt they deserve because the dead people did not vote. Those who were not on the roll may not have registered and in any case no-one knows who they were going to vote for. Please Zimbabweans we need to be serious and accept the will of the people. This country needs to move forward. If Tsvangirai has lost he should own up and congratulate RG [Mugabe]." Remigio, Harare
"This was a real election, so quiet and peaceful. It's normal to refute defeat in the first instance but political maturity dictates that someone has to emerge a winner at the end of the day. Accept defeat and move on." Dwandwari, Beitbridge
"I cast my vote yesterday in the sure knowledge that the ruling party would steal it - there is no way that a party that has run a country into the ground could ever win a free and fair election - a party that intimidates and steals from its own people is not a popular party. I weep in the knowledge that nothing will be done about this blatant theft, once again. The Zimbabweans are too cowed and the international community doesn't really care. Another five years of despotic rule? God help us all..." Natalie, Bulawayo
"I voted on Wednesday and was quite surprised at the big turnout by all races in my constituency. However, it has been the same issue after each and every election - of vote rigging and fraud, it does not shock me in the least. If the election has been compromised, what does it mean for an ordinary Zimbabwean such as myself? The answer, nothing changes if nothing changes. This is quite tragic really." Nadia, Harare
"I didn't vote because I was not registered, but several of my friends and family members were turned away from polling stations where they have been registered for years! I feel that these elections were far from 'free and fair', and I think it's disgusting that the Zanu-PF can say the voting ran smoothly." Kimberly, Harare
"In Ward 20 [Zengeza East constituency, in Chitungwiza] all those who cast their votes were asked to register with Zanu-PF officials camped some metres away from the polling station. I was a local observer myself, and I saw this happening. Besides that, some very well known individuals were in full police gear but they are not police officers. Some Zimbabwe Electoral Commission officials deliberately delayed the process so that voters would be disfranchised, and go home. This did not deter them from wanting to vote for real change. Polling officers were deployed away from their areas where they had registered to vote. Some, therefore did not cast their votes." Sekuru, Harare
"I went to vote yesterday but was turned away because of my 'alien' status - even though my name was on the voters' roll. I had a polling station outside my house too and people were still queuing at eight last night - calm and peaceful, yes, but we don't know what is happening behind closed doors in the tents where the votes are being counted." Louise, Zimbabwe
"These elections are free and fair. Most of the complaints are being made by people who want to refuse the outcome. The voters' roll was delayed to all the parties. The existence of dead people on the voters' roll is known by every Zimbabwean because we do not have a mechanism to remove people off the voters' roll if the relatives of the deceased do not obtain a death certificate and there is currently no law to compel the relatives to get a death certificate. In any case, the people are dead therefore they cannot vote hence they should not affect the result. The boxes are guarded by the political parties until counting thus there is very little chance for abuse. The world should give Zimbabwe a chance and uphold results of this election despite who wins. The economic recovery of Zimbabwe is what Zimbabwean are voting for." Caleb, Harare
"This election was largely peaceful and characterised by long lines so it appears Zimbabweans are determined this time around to effect change. l think Zanu-PF have resorted to new and perhaps sophisticated methods of rigging such as tampering with the voter roll. It's a shy away from the old and more primitive use of intimidation and violence but, nevertheless, l feel that the old man is going to lose this time around because l have never seen Zimbabweans more determined and more inspired." Lionel, Harare