Somalia's al-Shabab frees Kenya's Mule and Wainana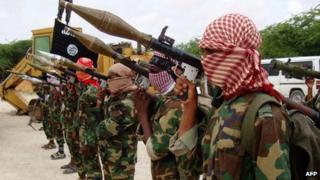 Two Kenyan hostages have been reunited with their families after being freed by militant Islamists in Somalia.
Yesse Mule and Fredrick Wainana were abducted from the Kenyan town of Gerille in January 2012 by fighters of the al-Qaeda-linked al-Shabab group.
Mr Mule told the BBC they moved to 19 different locations, and were kept chained and blindfolded in Somalia throughout their captivity.
Kenya denied paying a ransom for the release of the government officials.
Al-Shabab has taken numerous foreigners hostage, including the French spy Denis Allex who was executed in January after a botched French operation to rescue him.
Mr Mule and Mr Wainana were seized some three months after Kenyan troops entered Somalia to fight al-Shabab.
'Padlocked'
Its troops are currently part of the African Union (AU) force helping the UN-backed Somali government fend off threats by the al-Qaeda-linked group to overthrow it.
The BBC's Idris Situma reports from the Kenyan capital, Nairobi, that there were emotional scenes when the freed hostages were reunited with their families and friends at a thanksgiving ceremony on Thursday.
Al-Shabab had handed them over a day earlier to traditional elders who had negotiated their release, Mr Mule said.
Mr Mule was the Wajir County district officer and Mr Wainana a government clerk when they were captured during an attack by about 100 al-Shabab fighters on a police camp in Gerille, a town on the Kenya-Somalia border.
Eight Kenyans were killed during the raid.
Recalling the ordeal, Mr Mule told the BBC: "It was one of the worst moments. You are not sure about your life. You don't know what will happen in the next second or minute."
He and Mr Wainana were taken to Somalia where their captors moved them from place to place, he said.
"Every room within a house is a cell. You are blindfolded and chained. Both hands are padlocked to your legs," Mr Mule added.
Mr Mule said he and Mr Wainana were not afraid to return to their jobs, but the government had given them the option of being transferred to a different region.