Mali election: 'IBK' leads Soumaila Cisse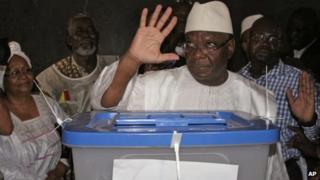 Mali's ex-Prime Minister Ibrahim Boubakar Keita has a clear lead over his rivals in presidential elections intended to restore democratic rule, the government has said.
Former Finance Minister Soumaila Cisse was in second place after about a third of votes were counted, it added.
Mr Cisse's camp rejected the result, calling for an international commission to count ballots cast in Monday's poll.
Mali was hit by a coup and an Islamist-led insurgency last year.
France sent more than 4,000 troops in January to regain control of northern towns and cities from al-Qaeda-linked militants.
'Scandalous'
The Islamists had captured territory with the backing of Tuareg separatists in 2012, but their alliance quickly crumbled.
They had taken advantage of a coup in Bamako after the army accused the civilian government of not doing enough to repel their offensive.
A UN peacekeeping force was deployed to Mali earlier this month to pave the way for elections, as France began to withdraw its troops from its former colony and the army pledged support for the restoration of democratic rule.
"There is one candidate, Ibrahim Boubacar Keita, who has a wide margin compared with the other candidates," Col Moussa Sinko Coulibaly, the minister of territorial administration, told journalists in the capital, Bamako.
"If maintained, there will not be a need for a second round."
Mr Cisse's spokesman Amadou Koita called the announcement "scandalous" and questioned why Col Coulibaly refused to give figures to back up his statement, AFP news agency reports.
"We quite simply reject these trends that were announced by the minister. We call on the minister to resign and an international commission... to be set up to count the vote," Mr Koita is quoted as saying.
On Monday, France hailed the election a success.
The European Union (EU) said it had gone well, and and was marked by enthusiasm among voters.
Mr Keita, or "IBK" as he is popularly known, has a reputation of being a strongman, reports the BBC's Alex Duval Smith from Bamako.
Aged 68, he ran his campaign under the banner of ''For Mali's honour'', playing on the fact that Malians felt humiliated by having to call for France's help to prevent their country from breaking up, our reporter says.
Prominent religious leaders in the mostly Muslim nation called on people to vote for him; he is also considered the favourite of the military, including last year's coup leaders, she adds.
Mr Cisse, who founded the Union for the Republic and Democracy (URD) party in 2003, called for the junta that seized power in 2012 to be cleared from the political scene.
The election was contested by 27 candidates. Some 6.8 million people were eligible to vote at 21,000 polling stations across the country.