France praises Mali's election as Keita leads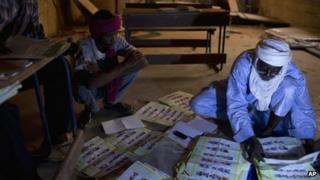 France has hailed Mali's presidential election, the first since a coup and an Islamist-led insurgency which it helped repel, a "great success".
Ex-Prime Minister Ibrahim Boubakar Keita's supporters celebrated in the capital, Bamako, as they predicted an outright win for him in Sunday's vote.
The state broadcaster said Mr Keita was in the lead, as votes are counted.
He had pledged to restore Mali's honour after it was forced to rely on France to fight the Islamists.
France sent more than 4,000 troops in January to regain control of northern towns and cities from al-Qaeda-linked militants.
The Islamists had captured territory with the backing of Tuareg separatists in 2012, but their alliance quickly crumbled.
They had taken advantage of a coup in Bamako after the army accused the civilian government of not doing enough to repel their offensive.
A UN peacekeeping force was deployed to Mali earlier this month to pave the way for elections, as France began to withdraw its troops from its former colony.
The elections are intended to reunite the north and south.
Observers said voter turnout was high in Bamako, but lower in the north.
'All-night party'
French Prime Minister Jean-Marc Ayrault said France did not act out of "paternalism" and wanted Mali to become a "democratic independent nation", AFP news agency reports.
"Congratulations are in order that the Mali elections went off well... For France, it is a great success," Mr Ayrault is quoted as saying.
The BBC's Alex Duval Smith reports from Bamako that supporters of Mr Keita partied throughout Sunday night after state broadcaster ORTM reported that he might win outright, averting a run-off vote on 11 August.
The government had earlier said it would need five days before issuing the result.
European Union election observation mission chief Louis Michel said the election had gone off well and was marked by enthusiasm among voters.
Mr Keita, or "IBK" as he is popularly known, has a reputation of being a strongman, our correspondent says.
Aged 68, he ran his campaign under the banner of ''For Mali's honour'', playing on the fact that Malians felt humiliated by having to call for France's help to prevent their country from breaking up, our reporter says.
Prominent religious leaders in the mostly Muslim nation called on people to vote for him; he is also considered the favourite of the military, including last year's coup leaders, she adds.
His biggest rival is seen as Soumaila Cisse, who founded the Union for the Republic and Democracy (URD) in 2003.
Mr Cisse has called for the junta that seized power in 2012 to be cleared from the political scene.
The election was contested by 27 candidates. Some 6.8 million people were eligible to vote at 21,000 polling stations across the country.
Turnout in a presidential election in Mali had never reached 40% and about 25% of the capital's registered voters took part in the last presidential race in 2007, Reuters news agency reports.