Sudan Darfur rebels attack North Kordofan military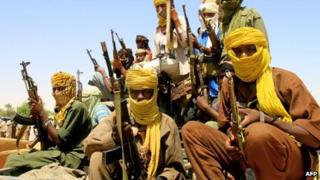 Sudanese rebels from Darfur have attacked an army position in North Kordofan, killing five soldiers in fierce fighting, the military has said.
North Kordofan has been relatively untouched by the violence in Darfur and near the border with South Sudan.
South Sudan denies charges it backs the Darfur rebels.
Details of the battle are unclear, but it comes ahead of Sudan's deadline to halt oil exports from Sudan Sudan over the allegations of rebel support.
South Sudan seceded in 2011, under the terms of a 2005 peace deal to end Africa's longest-running civil war.
Over the past two years, relations between the two neighbours have soured over oil revenues and accusations that they are backing rebel movements in each other's territories.
Rebels who had fought for the South during the war but found themselves on the Sudanese side of the border after the separation took up arms, saying their concerns had not been addressed.
Along with three Darfuri rebel groups they formed the Sudan Revolutionary Front and have mainly been active in South Kordofan and Blue Nile, which border South Sudan.
Fleeing
Both sides are claiming victory in the clashes in the Sidrah area of North Kordofan, a region that produces gum arabic, a food additive used in soft drinks.
"We handed the army a defeat," Reuters news agency quotes Gibril Adam Bilal, rebel spokesman for Darfur's Justice and Equality Movement (Jem), as saying.
Military spokesman Col Sawarmi Khalid Saad said the rebels had attacked with the aim of robbing properties and Sidrah was now "under full control of the armed forces which are still pursuing the rebels' remnants", the state-run Suna news agency reports.
A resident in the nearby town of Rahad told Reuters people had arrived fleeing the fighting.
Another Rahad resident told the AFP news agency that shooting and explosions had been heard in the town.
"Authorities closed the schools and asked students to go home."
Last month, Sudan told the South it would stop transporting oil within 60 days following accusations Juba backed rebels operating on Sudanese soil.
The oil had only begun flowing again in April after production was shut down by South Sudan for 14 months in a dispute over transit fees.
South Sudan has a large-scale oil sector - it took nearly three-quarters of Sudan's oil production when it declared its independence - but the country is landlocked and reliant on Sudan's ports for export.