Mauritania court frees Canadian jailed for 'terror ties'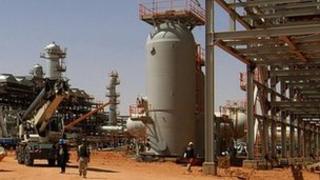 A 24-year-old Canadian man sentenced to 18 months in prison in Mauritania for alleged ties to terrorist activity has been freed, officials say.
Aaron Yoon was held over links to two other Canadian men apparently involved in a deadly siege at an Algerian gas plant in January.
The attack, which killed 37 hostages, has been blamed on Islamist militant leader Mokhtar Belmokhtar.
Mr Yoon has denied any links to terrorism.
'Dangerous'
He claimed he had gone to Mauritania to study Arabic and Islam, according to the Associated Press.
He is believed to have travelled to North Africa with Ali Medlej and Xristos Katsiroubas.
They were found dead after Algerian troops stormed the gas plant in Tigantourine, near In Amenas, where gunmen had seized local and foreign workers on 16 January.
Algeria's government said the pair were involved in the attack as hostage takers.
Canadian media reports said Mr Yoon was arrested in circumstances that were unclear some time before the siege.
Prosecutors in Mauritania called for him to be jailed over his "link to dangerous terrorist activity and his role in the recruitment of jihadists", AP said.
He was sentenced to 18 months in prison but freed by an appeals court earlier this month, according to the news agency.
Canadian foreign affairs spokesman Jean-Bruno Villeneuve said that Canada was "aware that a Canadian jailed in Mauritania is in the process of being released".
Mr Yoon is expected to remain under surveillance until he is able to return to Canada.
Belmokhtar is a former leading figure in al-Qaeda in the Islamic Maghreb (AQIM) but is now believed to head a group of militants known variously as the Signed-in-Blood Battalion, the Masked Men Brigade and the Khaled Abu al-Abbas Brigade.
Belmokhtar remains at large and the US is offering a $5m (£3.2m) reward for information leading to his arrest.