French Mali hostage Philippe Verdon confirmed dead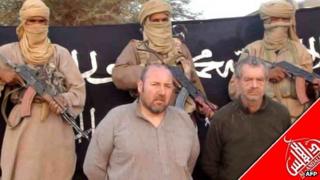 A body found in northern Mali has been confirmed to be that of a French man seized by Islamist militants in 2011, the French president's office says.
Al-Qaeda's North Africa branch said it had killed geologist Philippe Verdon in retaliation for France's intervention in Mali.
Mr Verdon and another Frenchman were seized in the northern town of Hombori.
He was said to have been on a business trip when he was kidnapped in November 2011.
"The death of our compatriot, Mr Philippe Verdon, has been formally confirmed," a statement from President Francois Hollande said.
"The body will be transferred to France as quickly as possible and the autopsies will allow us to find out the cause of his death."
France sent troops to Mali in January saying al-Qaeda-linked militants could overrun the capital, Bamako.
Besides Mr Verdon, another six French nationals are being held by Islamist groups in the country.
In an interview on Sunday, Mr Hollande said he was doing everything possible to bring the remaining hostages back.